Walnut and Olive Bread evokes this rustic evocative image of the Mediterranean countryside. Bread is much easier to make than you think it is. It is a case of mixing in the ingredients and allowing them to process. For the results and the consistency, I prefer I leave this to prove overnight ready for the following day.
What to do next
Tag me on @ethiveganquantum on Instagram to show me what you've made and let me know you're happy for me to share.
My recipes are featured in vegan speciality publications: Nourished, Vegan Life, Plant Based and Vegan, Food and Living.
Order my first self-published book, "Essence: The Beginner's Guide to Veganism" part of the three-part Circle of Food series. My second book "Presence: The Ascending Vegan" – which explores how to maintain a vegan practice is out in 2027 – I have compiled all the chapters including recipes.
Going strong since 2013.
Love.
Edward x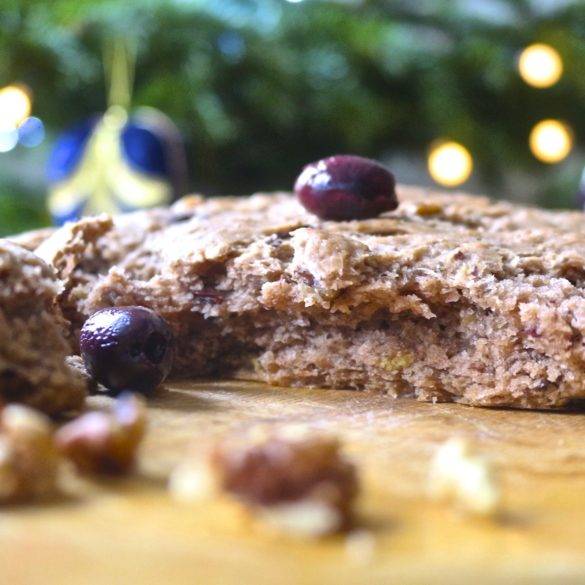 Ingredients
16g fresh yeast
340ml filtered water
1tsp raw unrefined sugar
pint of salt
620g "00" doppio flour
80g semolina flour
7tbs olive oil
75g walnuts, roughly chopped
75g olives, destoned and sliced in two
Instructions
Place the yeast, lukewarm water, sugar and salt into a jug and mix.
Add the yeast to the flour in a food mixer. Combine well.
Add the oil. Continuing whizzing the dough.
Gently fold in the walnut and olives.
Place the dough onto a large baking tray. Leave to prove in a warm space.
Every couple of hours or so, knead the risen dough. Leave the dough over night to prove. Cover with a dry dishcloth if needed.
The following day, you do not need to knead. When ready pre-heat the oven. Wait until the oven is warm. Cover with aluminium foil and bake the bread for about 25 minutes.