Cranberry with tart apple and sweet banana soaked in lemon juice in a crispy filo pastry; Cranberry Fruit Pie.
Pamper yourself with something light and fruit that'll have you all tizzled. And, dribble.
Cranberry Fruit Pie will tumble any belief that vegan food can't be super scrumptious.
Make this:
When you've got a Christmas party and need a delicious dish that'll get your guests yapping
When you've an office event and you're out of time and need a quick and dirty dish to satiate your appetite
When you've got Aunty Betty who's invited herself last minute and you need a dish that will quench her appetite
Cranberry Fruit Pie was inspired by when having friends visiting and having cranberry, apple and bananas in the pantry and rustling a quick recipe to go with our main.
Cranberries are rich in antioxidants helping neutralising free radicals which damages cells, and its helps prevent unitary tract infections too.
Filo pastry has the huge advantage of being quick and easy resulting in thin quick crispy pastry. I use it when I am pushed for time.
Cranberry Fruit Pie is vegan.
What to do next
Tag me on @ethiveganquantum on Instagram to show me what you've made and let me know you're happy for me to share.
My recipes are featured in vegan speciality publications: Nourished, Vegan Life, Plant Based and Vegan, Food and Living.
Order my first self-published book, "Essence: The Beginner's Guide to Veganism" part of the three-part Circle of Food series. My second book "Presence: The Ascending Vegan" – which explores how to maintain a vegan practice is out in 2027 – I have compiled all the chapters including recipes.
Going strong since 2013.
Love.
Edward x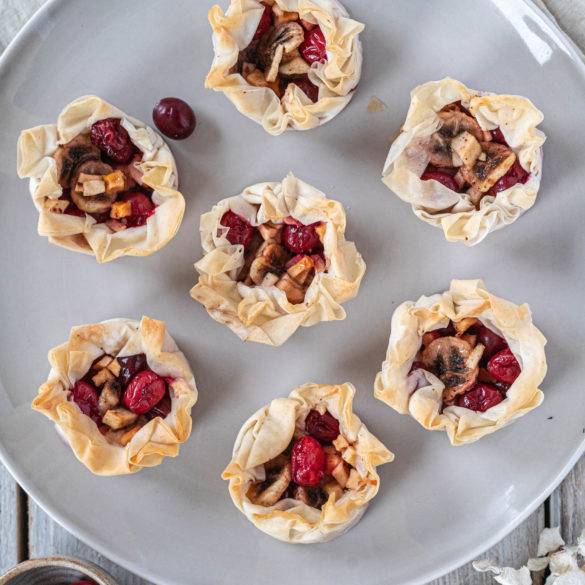 Ingredients
150g cranberries

100g raw unrefined cane sugar

1 bramley apple, chopped

2 bananas, sliced

½ lemon, juice

200g Yufka (Turkish rectangular pastry leaves) or filo pastry

2 tbs coconut oil

Olive oil for basting
Instructions
Preheat oven to gas mark 180 degrees Celsius, or if a convection oven to 160 degrees Celsius.
Place the cranberries in filtered water over a medium heat. When you hear the cranberries pop. Switch off the heat and stir in the sugar. Place in large mixing bowl.  Combine in the apples, bananas and lemon juice.
Line a 12 mini cake tin with olive oil.
Place 3 pastry leaves on a clean surface and use a 7-inch circle base of a cake tin to cut out into a circle. Use a sharp knife to edge round and transfer to the cake tin. Repeat until completed.
Spoon in the cranberry mixture.
Baste the surface with the remaining olive oil.
Bake in the oven for 15 minutes.
Serve with vegan cream or ice cream.