Tantalising pillowy sweet chestnut pancakes with hints of spicy nutty nutmeg and citrus lemon; Chestnut Pancakes.
Guzzle something soft and squidgy down your pecker. And, go schmaltzy.
This dish will trample any belief that vegan food isn't simple to make.
Make this:
When you've got your new beau/belle is staying for the night and want a scrummy dish that'll have you both gazing into each other's eyes and more
When it's the weekend and a special brekkie treat that'll start your day with a bang
When you've got the lads over after a long night and need a brekkie that will soak up all that excess drink off
Chestnut Pancakes was inspired when sitting at one of the al fresco cafes in the Piazza della Repubblica, Florence sipping beverages and indulging in sweet luscious chestnut pancakes.
These Pancakes harks back to necci, popular street food, thin crisp Tuscan Chestnut Pancakes, common during Autumn as stalls pop up at harvest festival.  Traditionally baked on smooth stones heated in ovens.   Though, now cooked in griddles or non-stick pans, doused with olive oil.
These Pancakes are a lush for breakfast.  They are incredibly rich in flavour and I love eating them with a bit of yoghurt and lemon.  These pancakes look as good as they taste.
I like my chestnut flour to ferment and will therefore give it about a day to autolyse.  It's just my preference.
These Pancakes are vegan, paleo and gluten-free.
What equipment to use
For this recipe, I suggest:
High speed blender
Stove
What to do next
Tag me on @ethiveganquantum on Instagram to show me what you've made and let me know you're happy for me to share.
My recipes are featured in vegan speciality publications: Nourished, Vegan Life, Plant Based and Vegan, Food and Living.
Order my first self-published book, "Essence: The Beginner's Guide to Veganism" part of the three-part Circle of Food series. My second book "Presence: The Ascending Vegan" – which explores how to maintain a vegan practice is out in 2027 – I have compiled all the chapters including recipes.
Going strong since 2013.
Love.
Edward x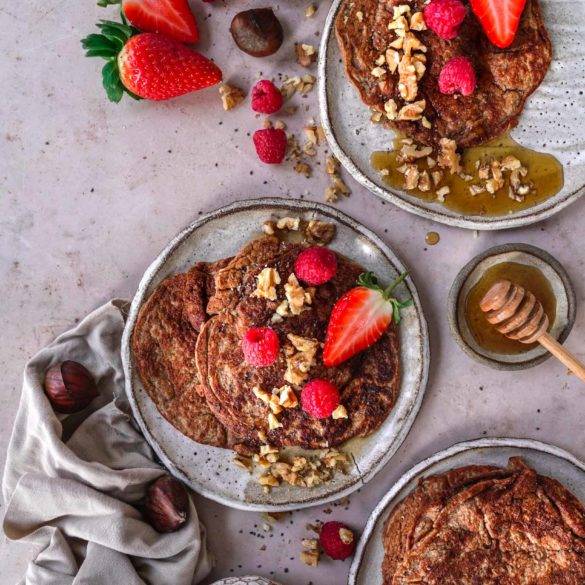 Ingredients
Pancakes

100g chestnut flour

250ml filtered water

50g flaxseeds

25g unrefined cane sugar

¼ tsp nutmeg

Pinch of salt

½ lemon, juice

1 tsp baking soda

Coconut Oil for frying – ½ tsp for each pancake
Instructions
Place the chestnut flour in filtered water.  Cover with cling film and leave at room temperature overnight. The colour of the water should start to become frothy.
In a high-speed blender, blend the flaxseeds, nutmeg, sugar and salt until fine.
Transfer to a mixing bowl the chestnut flour, water and the flaxseed mixture.  Add in the lemon juice.
Toss in the baking soda but do not whisk but use a spoon to bring it all together.  The batter should start becoming airy.
Line a plate with a couple of kitchen towels or paper napkins.
Gently heat a griddle pan. When the pan is hot, add the oil. Let the oil sizzle and then add a couple of spoonsful of batter. Roll the batter around, until it covers the surface.  Cook on either side for 3 or 4 minutes until it changes a dark golden-brown colour.  Transfer to the plate.
Serve.