Apples, raisins, sultanas, currents infused with cinnamon, mixed spice, mace and nutmeg fermented in brandy on a teff millet pastry; Traditional Mince Pies.
Revere your soul. And, allow something traditional to jive you.
This dish will obliterate your belief that vegan food can't be super scrumptious.
Make this:
As a highlight to your "Putting up the Christmas Tree" event and munch away as you place the decorations and listen to festive music
When you've got mates popping over for a Christmas bevvy and you have these little beauties stored to delight
When you're getting into the spirit mood and need a little dessert to bring the sparkle into your Christmas
Traditional Mince Pies was inspired recalling baking in my youth mince pies as we decorated the Christmas tree with my parents and brothers.
Traditional Mince Pies is a recipe that harps back to a bygone era.  It has all the typical trimmings, including the mixed fruit and spices and a little bit of brandy. I love this dish because it is so rich with colour and texture. The crust is not traditional, as it is gluten-free.
I had to hold off from eating these pies as I was doing the photography. It is lush with some simple vanilla ice cream.
Traditional Mince Pies is a vegan dessert and gluten-free.
What equipment to use
For this recipe, I suggest:
High speed blender
Oven
What to do next
Tag me on @ethiveganquantum on Instagram to show me what you've made and let me know you're happy for me to share.
My recipes are featured in vegan speciality publications: Nourished, Vegan Life, Plant Based and Vegan, Food and Living.
Order my first self-published book, "Essence: The Beginner's Guide to Veganism" part of the three-part Circle of Food series. My second book "Presence: The Ascending Vegan" – which explores how to maintain a vegan practice is out in 2027 – I have compiled all the chapters including recipes.
Going strong since 2013.
Love.
Edward x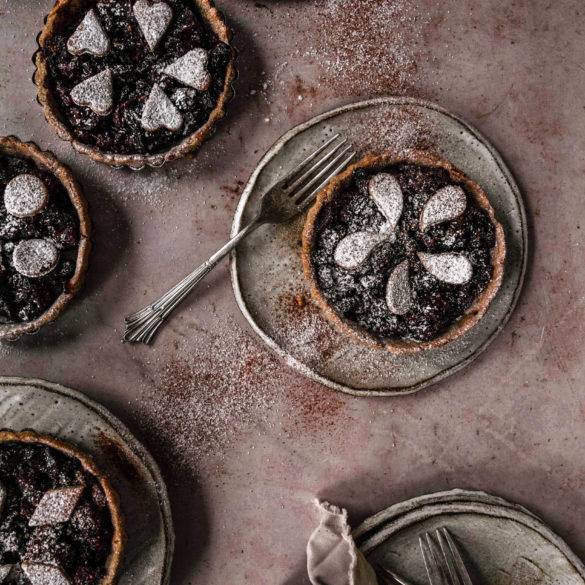 Ingredients
For mincemeat

250g eating apples

100ml brandy

150g raisins

100g sultanas

100g currents

120g unrefined cane sugar

1 tsp cinnamon, ground

1 tsp mixed spice, ground

½ tsp mace, ground

½ tsp nutmeg, ground

For pastry

100g millet

50g teff flour

50g tapioca flour

40g oats

40g flaxseeds

25g unrefined cane sugar

1tsp xanthan gum

Pinch of salt

70ml filtered water

45ml olive oil
Instructions
In a large ceramic or wooden bowl place all the mince pie ingredients together. Combine well and cover with a cloth. Leave overnight or a couple of days. Typically, you would place in sterilised jars with the cap on top to let the fruit ferment for about a month but if you are short on time I normally leave the mincemeat covered for a few days to the elements.
When ready, in a high-speed food blender grind the millet, oats, flaxseeds, and sugar. Transfer to a large mixing bowl. Toss in the teff, xanthan gum and salt.
Pour in the oil and water. Knead into a dough and set aside for 10 minutes.
pre-heat the oven to gas mark 180 degrees Celsius or if a convection oven to 160 degrees Celsius.
Weigh the dough and divide the dough into 6 for 5-inch tart tins or alternatively, small tart tins. Line tartlets with olive oil.  Place the dough between two pieces of parchment paper and roll into a circle.  Shape the dough into the tart tin.  Fork the dough.
Spoon the mince pie mixture into the tins. If there is any extra dough, make into shapes. Brush the pastry with olive oil.
Bake in the oven for about 15 minutes until the crust turns into a light golden colour.
Remove from heat and set to one side.
Serve warm with some ice cream or vegan cream. Dust with icing sugar just before serving.