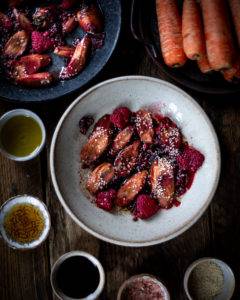 Raspberry Balsamic Glazed Carrots
Raspberry Balsamic Glazed Carrots is my go-to recipe for entertaining guests. It looks colourful and oozes with taste. The caramelised carrots meld with the sweet yet sharp taste of the raspberries.
Cuisine:
Vegan, Paleo, Paleovegan
Ingredients
300g carrots
75g raspberries
1tbs olive oil
1tbs balsamic vinegar
1tbs maple syrup
Salt and pepper
Garnishing
Sesame seeds
Instructions
Preheat oven to gas mark 180 degrees Celsius.
Slice the carrots diagonally across. Place into an oven proof dish.
Make the marinade by mixing together the oil, vinegar, syrup and salt and pepper. Stir in the raspberries.
Glaze the marinade over the carrots.
Bake the carrots in oven for about 30 minutes, until the carrots turn a lovely golden orange colour. Keep basting once in a while. Remove from oven.
Garnish
Serve warm.
_____________________________________________________
EthiVegan by Edward Daniel
Thank you for taking the time to view my recipes, interviews and events pages.  I hope I inspire you to make these recipes and also inspire you to become very best versions of yourself.
You can follow me on Instagram here (@ethivegan) where I have quick one minute update videos and for interviews and cooking demonstrations you can subscribe to my Youtube channel here.  You can watch live cooking demonstrations by subscribing to my Facebook profile here (@ethivegan).
For more information about me – click here
See you soon.
Love.
Edward x
Edward Daniel | Vegan Chef