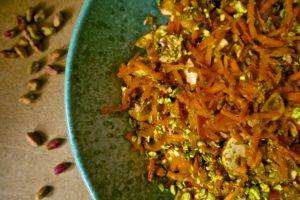 Carrot Mushroom Pistachio Salad
Carrot Mushroom Pistachio Salad is one of those versatile summer salads that makes a great accompaniment and had on its own.
Cuisine:
Vegan, Raw, Paleovegan, Paleo
Ingredients
250g carrots
30g pistachios
125g chestnut mushrooms
1 orange, zest and juice
pinch of salt
Instructions
Grate the carrots and place in a large mixing bowl.
Slice the chestnut mushrooms, and chop the pistachios in a chopper. Place both in with the carrots.
Add the orange, juice and zest, and salt and allow to marinade for about an hour.
Serve.
_____________________________________________________
EthiVegan by Edward Daniel
Thank you for taking the time to view my recipes, interviews and events pages.  I hope I inspire you to make these recipes and also inspire you to become very best versions of yourself.
You can follow me on Instagram here (@ethivegan) where I have quick one minute update videos and for interviews and cooking demonstrations you can subscribe to my Youtube channel here.  You can watch live cooking demonstrations by subscribing to my Facebook profile here (@ethivegan).
For more information about me – click here
See you soon.
Love.
Edward x
Edward Daniel | Vegan Chef