Spongy sorghum rice pastry layered with bitter sweet cacao, crunchy hazelnuts and coconut sugar; Chocolate Babka.
Succumb to temptation. And, allow the chocolatey juices to wash over you.
This will obliterate your belief that vegan food can't be this super yummy.
Make this:
When you're babysitting your nephew/niece. You have a jammed packed weekend of fun and activities. And, settling into making these little lovelies will get your weekend off to a bang
When you fancy a bit of pure indulgence. You've had a long week. And, as you relax into the weekend with a nice cuppa, some chocolate babka to accompany would do nicely
When you've had an awesome sleep, and want to ease yourself into the day. Read the magazine. Put the washing on. And, something sweet and moist to go with that coffee
Chocolate Babka was inspired when frequenting the local Jewish bakeries in Finchley. I was overly impressed with how gorgeous these little beauties were so mouth-watering. And, so messy. I had chocolate dribbling all over me, fresh from the oven.
Babka is one those homely dishes and yet wholesome too. I just love the chocolate hazelnut flavour of this bread which brings a little sunshine to any day.
This sweet dish is vegan and gluten-free, and Jewish cuisine.
What equipment to use
For this dish, I suggest:
High-speed blender
Stove
Oven 
What to do next
Tag me on @ethiveganquantum on Instagram to show me what you've made and let me know you're happy for me to share.
My recipes are featured in vegan speciality publications: Nourished, Vegan Life, Plant Based and Vegan, Food and Living.
Order my first self-published book, "Essence: The Beginner's Guide to Veganism" part of the three-part Circle of Food series. My second book "Presence: The Ascending Vegan" – which explores how to maintain a vegan practice is out in 2027 – I have compiled all the chapters including recipes.
Going strong since 2013.
Love.
Edward x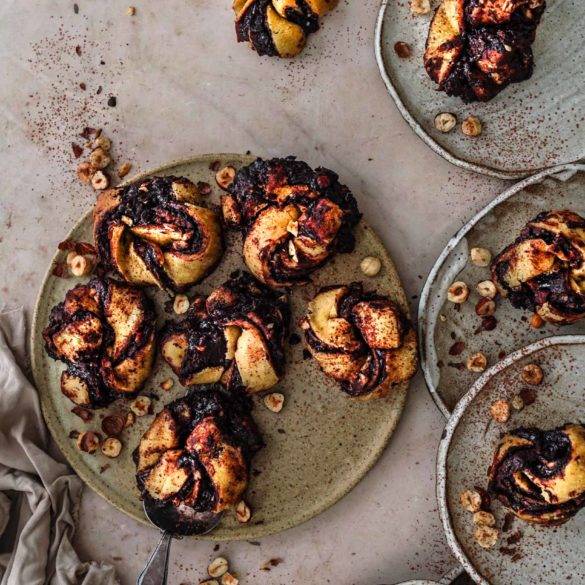 Ingredients
Pastry

150g sorghum

150g sweet rice flour

40g oats

40g flaxseeds

60g tapioca flour

1tsp dried yeast

225ml filtered water

50g unrefined cane sugar

4tbs olive oil

1tsp aluminium free baking powder

¼ tsp salt

Filling

Pinch of salt

100g coconut unrefined sugar

75ml water

75g cacao powder

65g coconut oil

50g hazelnuts chopped
Instructions
Dissolve the yeast in water and sugar. Set to one side for 20 minutes.
Grind the oats and flaxseeds in a high-speed blender and transfer to a large mixing bowl with the sorghum, sweet rice and tapioca flours, baking powder and salt. Combine with a spatula.
Pour over the yeast mixture into the mixing bowl. Form and knead into a dough. Pour over the olive oil. Cover with a dishcloth and set to one side for about a couple of hours.
Line a baking tray with parchment paper.
Place dough between 2 large pieces of parchment paper. Using a rolling pin, roll into a rectangle of at least around 40cm by 30cm.
Melt the coconut oil if hard to soften or if at room temperature, mix with the sugar, water, and cacao powder. Use a spatula to spread over the dough. Leave about half an inch on the sides.  Drizzle on the hazelnuts.
Imagine having the dough in three different parts. Fold over the dough, like a book, one third end into the middle third and then the other third end over.
Use a sharp knife to tail the ends. Cut 1.25cm 1.5cm strips.
Take both ends of the dough and twist and twirl over and bind both ends together. Don't be too precious if it breaks – this is the rustic nature of these cinnamon buns. Baste with olive oil.
Transfer each babka to the parchment paper. Leave to rise in a warm place for about an hour or two until they have risen. Baste with oil. If you want them for the following morning – just refrigerate in a sealed container and rise first thing in the morning, in a warm place.
Preheat the oven to gas mark 180 degrees Celsius, or if a convection oven to 160 degrees Celsius.
Boil a kettle and place a tray full of water below the shelf where you are planning to place your babka.
Cover the tray with aluminium foil and bake the babka for about 25 minutes.
Turn out the tray onto a cooling rack.
Serve the babkas fresh out of the oven – normally, I will only bake what I need and that way these babkas can last a few days.