Neck something crunchy and creamy too, and satiate your appetite to oblivion… And, plunge.
Hearty Tuscan beans stewed in white wine and almond cream with a hint of sage topped off with ground sesame seeds and nutritional yeast; Tuscan Bean Stew.
This dish will smash any myth that vegan food can't be nourishing and satisfying.
Make this:
When you've played in the snow either on your own or with the kids, and need a warming treat that'll get you yapping in no time, now you're back in from the cold
When you're on your winter break in the countryside, got the logs on and a snuggle with some good honest grub will round off your evening
When you fancy an Italian but want to forego the pizza for something wholesome
Tuscan Bean Stew was inspired when visiting medieval Lucca in the rolling hills of Tuscany, Italy and being enchanted by the local cooking all lovely created by mamas.
Traditionally, Tuscan Bean Stew uses the Sorana bean (Fagiolo di Sorano), a variety of Cannellini bean, grown in a microclimate of only around a dozen farms around the embankment of the Pescia River, near Sorana in Tuscany. Pearly white, Sorena beans have a delicate flavour. Though, the standard Cannellini bean, honestly works just as well, if the Sorana bean isn't readily available.
Tuscan Bean Stew is vegan.
Love.
Edward x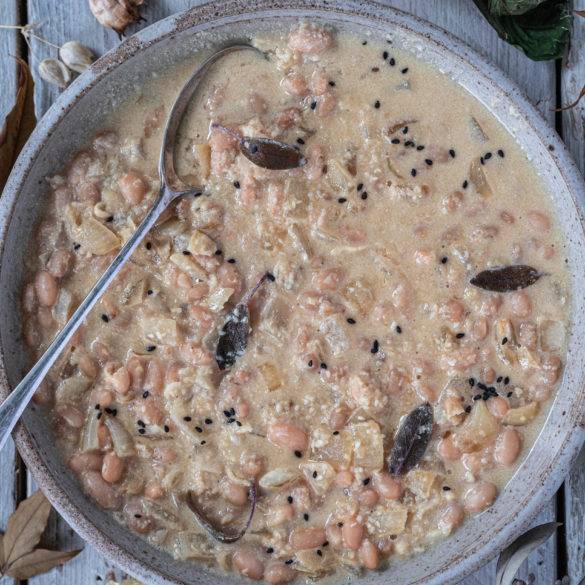 Ingredients
200g Tuscan/cannellini beans

1 onion

2tbs olive oil

200ml retained bean water

200ml white wine

2tbs apple cider vinegar

40g almonds, blanched

20g sesame seeds, ground

15g nutritional yeast

1tsp balsamic vinegar

Salt and pepper to season
Instructions
Soak the beans in filtered water overnight.
Pressure cook the beans for 25 minutes. Retain water.
Place the retained bean water in a blender and add the almonds. Blend well to form a cream. Set to one side.
In a large saucepan, sauté the onion in the oil for a few minutes until the onion turns translucent. Add the beans, white wine, vinegar and sage. Bring to the boil and then simmer for about 10 minutes.  Add in the almond cream and stir for a couple of minutes more. Switch off the heat.
Add the nutritional yeast, sesame seeds, balsamic vinegar and season with salt and pepper. Place the lid back on top of the saucepan until ready to serve.
Serve with potatoes or some nice crusty bread,