Lavish your taste buds with something moist. And, take a somersault.
Fudgy chewy moist Chocolate Chip Cookies made with nutty buckwheat and millet, and churned roasted peanut butter.
This dish will obliterate your belief that vegan food can't taste so good.
Make this:
When afternoon tea is on the books and you've got your accounts due in. A little indulgence that'll have your focussed on the maths in no time
When you've got the kiddies scrambling around the kitchen and a dish that'll have them joining in the fun will have them quieten down as they get stuck into the preparation
When you fancy a cuppa with a small naughty side as you lounge into the sofa
Chocolate Chip Cookies was inspired by school time snacks, coming home ready for homework and having a side as it was times to studiously read the books.
Make your own Peanut Butter. Here's my recipe for Peanut Butter.
Chocolate Chip Cookies are vegan and gluten-free.
Love.
Edward x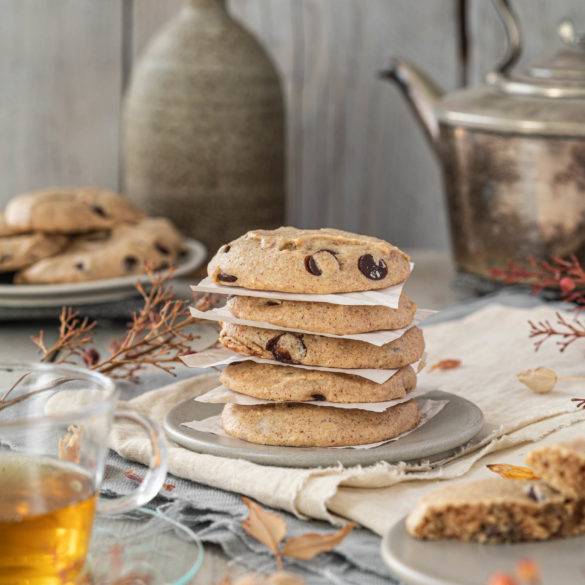 Ingredients
75g peanut butter

60g buckwheat

50g millet

40g tapioca flour

75g raw unrefined cane sugar

100ml coconut milk

25g olive oil

30g flaxseeds

1tsp baking powder

Pinch of salt

50g chocolate chips
Instructions
Pre-heat the oven to gas mark 180 degrees Celsius or if you have a fan oven 160 degrees Celsius.
In a high-speed processor grind the buckwheat, millet, sugar, flaxseeds and salt. Transfer to a large mixing bowl.
Add in the tapioca flour and baking powder. Mix well.
Pour in the coconut milk and oil and combine well. Cream in the peanut butter.
Line large baking tray with parchment paper and oil.
Take an ice-cream scoop, and scoop out some dough. Use a knife to sweep away any excess.  Scoop onto the parchment paper. Repeat until your tray is full but make sure there is sufficient space to permit the cookies to spread out as they bake.
Bake in the oven for 10 minutes.
Remove the trays from the oven and allow the cookies to cool down before serving.