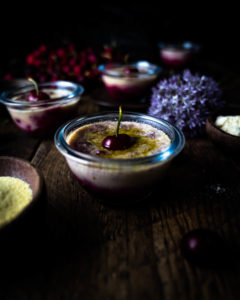 Vegan Cherry Clafoutis
Vegan Cherry Clafoutis was a trial and error endeavour. In my original recipe a few years back I had used semolina but this time I wanted to created something gluten-free and not overly cooked. For this Vegan Cherry Clafoutis I use ground almonds and oats with Marsala wine thrown in to add some subtle richness. I only use a hint of lemon zest which lifts this Vegan Cherry Clafoutis. Enjoy!
Recipe type:
Vegan Dessert, Vegan Breakfast
Cuisine:
Vegan, glutenfree, gf
Ingredients
400g cherries
Dry ingredients
60g oats, ground
60g almonds, ground
Wet ingredients
6tbs Marsala wine
100ml maple syrup
240ml filtered water
1tsp vanilla essence
zest of ⅛ lemon
1tbs olive oil
Instructions
Preheat oven to gas mark 180 degrees Celsius or if you have a fan oven 160 degrees Celsius.
Pit the cherries. Place in a blender and roughly chop for a few seconds.
Combine the oats and almonds together in a mixing bowl. Set to one side.
Separately combine the wet ingredients in a blender. Add to the dry ingredients.
Line a pyrex dish with oil and place the cherries at the bottom. Drizzle the clafoutis mixture on top.
Bake in the oven for 15 minutes. Remove and serve warm or cold if you prefer.