Crisp oat almond cocoa unleavened baked biscuits with a hint of bitter blackstrap molasses; Chocolate Digestives.
Dive into something crumbly and firm. And, hold tight.
This dish will topple any belief that vegan food can't be enticing and heavenly.
Make this:
When you're in a wholesome need of unprocessed digestives that'll have you dunking for glory
When you're making a dessert that deserves a shrewd chocolate digestive base
When you're flouting with danger as you ravish your beau/belle with a night cap digestive
Chocolate Digestives was inspired when creating a Chocolate Torte. I had avoided shop bought digestives. Instead, wanted to make a divine version, knowing the ingredients that had gone in.
This chocolate biscuit is vegan and gluten-free.
What equipment to use 
For this recipe, I suggest:
High-speed blender
Oven
What to do next
Tag me on @ethiveganquantum on Instagram to show me what you've made and let me know you're happy for me to share.
My recipes are featured in vegan speciality publications: Nourished, Vegan Life, Plant Based and Vegan, Food and Living.
Order my first self-published book, "Essence: The Beginner's Guide to Veganism" part of the three-part Circle of Food series. My second book "Presence: The Ascending Vegan" – which explores how to maintain a vegan practice is out in 2027 – I have compiled all the chapters including recipes.
Going strong since 2013.
Love.
Edward x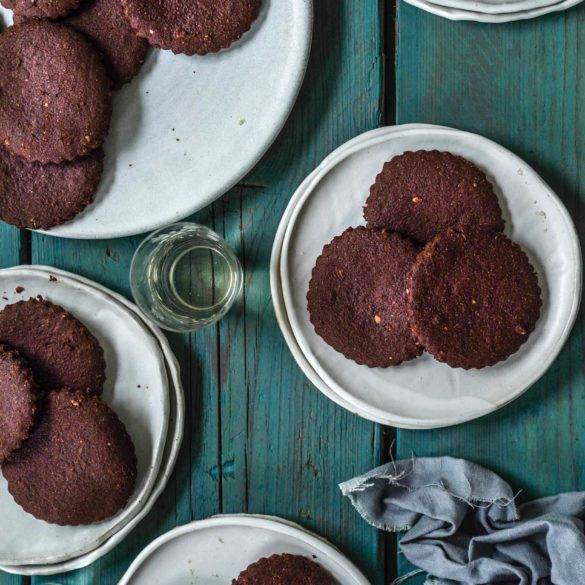 Ingredients
150g oats

45g blanched almonds, ground

50g tapioca flour

50g cocoa powder

100g unrefined cane sugar

½ tsp baking soda

¼ tsp salt

50ml olive oil

50g coconut oil

1tbs blackstrap molasses
Instructions
Pre-heat oven to gas mark 180 Celsius degrees or if a convection oven to 160 Celsius degrees.
In a high-speed blender, whizz the oats, almond and sugar until fine. Transfer to a large mixing bowl. Add in the tapioca flour, cocoa, baking soda and salt. Mix well with a spatula.
Pour in the oils and blackstrap molasses. Use your hands to form a dough. Set aside in the fridge for 30 minutes.
Line a large baking tray with parchment paper.
Use a rolling pin to roll the dough between two sheets of parchment paper. Use a cutter to shape the biscuits. Use a palette knife to slide under the biscuit and gently transfer to the baking tray.
Bake in the oven for 10 minutes. Set aside to cool.
Serve at room temperature. Store in sealed container.