Mineral rich freshly foraged Blanched Marsh Samphire with citrus lemon and sliced garlic lightly sautéed in creamy butter.
Release all tensions. And, relax into a sea swinging bliss.
This dish will ravish your beliefs that vegan food can't be super nourishing.
Make this:
When you have an explosion of Samphire shooting up round your local beach. It's harvest season and time for a wholesome treat
When you fancy a dish that's simple to rustle up. And, with little effort. It's time to get the fry pan out and get that butter sizzling
When you've spotted some Samphire in stock at your local supermarket. And, sequester it for your just unrich pleasures….
Blanched Marsh Samphire was inspired when harvesting these green beauties at a friend's local beach. It was cloudy day with the sea just out. Just in the causeway we happenstance upon some Samphire and munched on these as we foraged. Returning home a simple dish on the offering was in motion.
This dish is vegan and paleo.
What equipment to use
For this recipe, I suggest:
Stove
What to do next
Tag me on @ethiveganquantum on Instagram to show me what you've made and let me know you're happy for me to share.
My recipes are featured in vegan speciality publications: Nourished, Vegan Life, Plant Based and Vegan, Food and Living.
Order my first self-published book, "Essence: The Beginner's Guide to Veganism" part of the three-part Circle of Food series. My second book "Presence: The Ascending Vegan" – which explores how to maintain a vegan practice is out in 2027 – I have compiled all the chapters including recipes.
Going strong since 2013.
Love.
Edward x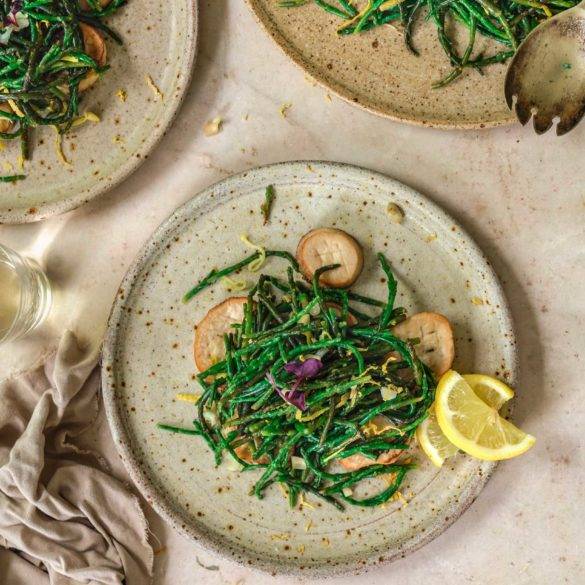 Ingredients
200g of Marsh Samphire

2 cloves of garlic

25g vegan butter

½ lemon, juice and zest
Instructions
Use a knife to remove any brown stalks or roots. Immerse and clean the Marsh Samphire in cold water.
Melt butter in a fry pan over a medium heat. Sauté the garlic until soft.
Lightly blanch the Samphire for about a minute. Remove from heat and transfer to a serving dish.
Drizzle with lemon juice and garnish with zest.
Serve immediately.