Chocolate Hazelnut Parfait is one of those opulent desserts that rounds off an evening. I use Frangelico Hazelnut liquer which has a toasty flavour and enhances this alluring Chocolate Hazelnut Parfait.
What to do next
Tag me on @ethiveganquantum on Instagram to show me what you've made and let me know you're happy for me to share.
My recipes are featured in vegan speciality publications: Nourished, Vegan Life, Plant Based and Vegan, Food and Living.
Order my first self-published book, "Essence: The Beginner's Guide to Veganism" part of the three-part Circle of Food series. My second book "Presence: The Ascending Vegan" – which explores how to maintain a vegan practice is out in 2027 – I have compiled all the chapters including recipes.
Going strong since 2013.
Love.
Edward x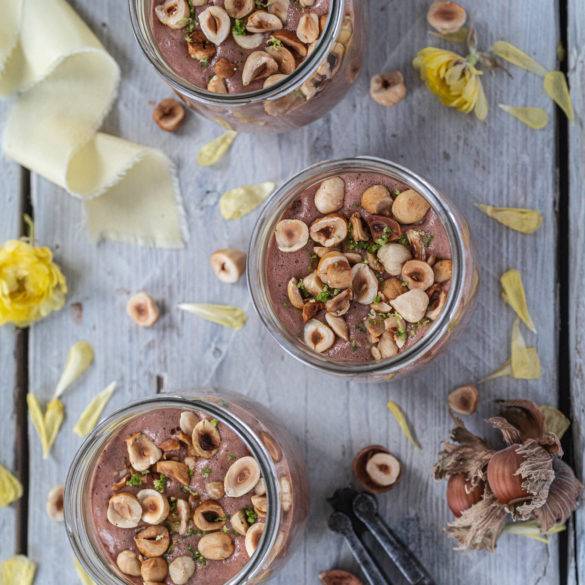 Ingredients
50g cocoa
50g hazelnut
75g raw unrefined cane sugar
200g vegan yoghurt
½ lime, juice and zest
Water retained from chickpeas drained from can
3tbs Frangelico (hazelnut liqueur)
Instructions
Pre-heat the oven to gas mark 180 degrees Celsius or if you have a fan oven 160 degrees Celsius.
Dry roast the hazelnuts in the oven for about 15 minutes. Remove from oven and over a sieve remove the dry skin. Set to one side.
Place sugar in a saucepan over a medium heat. Stir continuously with a wooden spoon. As soon as the sugar crystalises immediately stir in the yoghurt. Coat and ensure well combined.
Add the cocoa to the sugar.
In a large mixer whisk the chick pea water until it turns white and thick. Keep whizzing and add the Frangelico and lime juice. Stir in the cocoa mixture with a spatula.  Switch off the mixer. The parfait should be a deep chocolate colour.
Transfer the parfait to a serving bowl or into bowls and place in the fridge for about 30 minutes.
Serve chilled. Just before serving litter with hazelnuts. Garnish with some lime zest, if preferred.