Cucumber Fine Bean Salad is one of those lush Summer salads.  This salad can be made raw by not dry roasting the peanuts. Nevertheless, my favourite part of this Cucumber Fine Bean Salad is the dressing which is rich in flavour and goes well with the subtle tastes of the cucumber and fine beans.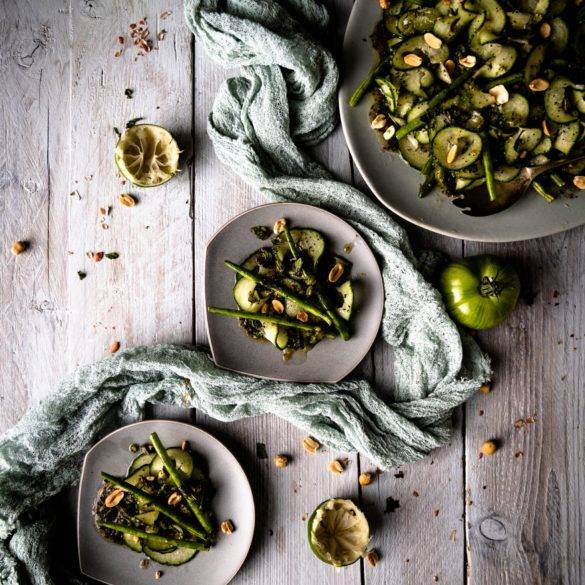 Ingredients
30g peanuts
1 large cucumber
75g fine beans
1 medium tomato
4tbs olive oil
2tbs grape molasses
1tbs poppy seeds
1 lime, juice and zest
Few sprigs of mint
Pinch of salt
Instructions
Pre-heat the oven to gas mark 180 degrees Celsius or if you have a fan oven 160 degrees Celsius.
Dry roast the peanuts in a baking tray for 25 minutes. Remove from the oven. Set aside until cool and then remove the skin with fingers.
In chopper roughly chop the tomatoes and place into a large mixing bowl. Add the oil, molasses, seeds, juice, mint and salt.  Combine well.
Finely cut the cucumber. Use a spiraliser if you have one. Mix the cucumber into the dressing. Add in the fine beans.
Garnish with the peanuts.
Serve immediately.