Fruity Kalamata olives and sweet grapes roasted with crisp cauliflower leaves topped with grape molasses; Olive Grape Cauliflower Leaf.
Get a medley of intoxicating flavours into your pecker… And, simper.
This dish will blow your mind as to how tasty vegan food can be.
Make this:
When you've used the cauliflower head and scratching your head as to what to do with the leaves – easy, use the leaves to make this simple dish
When you've got a dinner party organised and have little time, and need a dish that you can set aside in the oven as you get ready
When is a gorgeous summery day and need a colourful dish that will brighten up your outside dining table as you gaze into the sunset
Olive Grape Cauliflower Leaf was inspired by al fresco dining while on the Greek Islands with an ex-beau and gazing at the passers-by from our apartment.
Kalamata olives are purple-brown olives with a meaty texture that herald from southern Peloponnese in Greece. Olives symbolise peace, honour and unity with the olive wreath used as the winning prize crowning champions at ancient Olympic Games.
The outer leaves of a cauliflower are delightful and edible too.  Similar in texture to kale, they have a sweet taste.  They're also rich in fibre that it helps aid digestion and in keeping the gut healthy.
This savoury dish is vegan and paleo.
What equipment to use
For this recipe, I suggest:
Oven
What to do next
Tag me on @ethiveganquantum on Instagram to show me what you've made and let me know you're happy for me to share.
My recipes are featured in vegan speciality publications: Nourished, Vegan Life, Plant Based and Vegan, Food and Living.
Order my first self-published book, "Essence: The Beginner's Guide to Veganism" part of the three-part Circle of Food series. My second book "Presence: The Ascending Vegan" – which explores how to maintain a vegan practice is out in 2027 – I have compiled all the chapters including recipes.
Going strong since 2013.
Love.
Edward x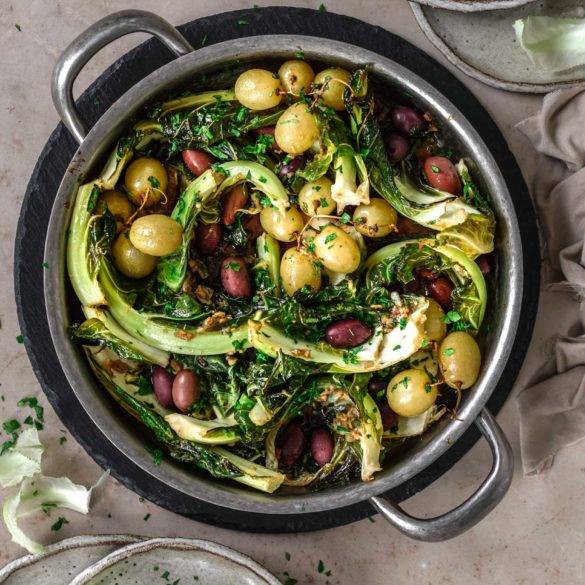 Ingredients
Medium Cauliflower

3tbs olive oil

2tbs grape molasses

1tsp rice mirin

Pinch of salt

1 clove of garlic

100g grapes

100g olives, destoned

Garnishing

Few sprigs of parsley, chopped
Instructions
Pre-heat the oven to gas mark 180 degrees Celsius or if you have a fan oven 160 degrees Celsius.
Remove the leaves from the head of a cauliflower. Set to one side.
In a large mixing bowl, combine the oil, molasses, mirin, salt and garlic.
Add in the leaves to the bowl. Toss in the grapes and olives.
Transfer to an oven proof dish and roast in the oven for around 30 minutes. I like my food on the crunchy side and this normally does it for me.
Serve immediately with some potatoes or quinoa. Garnish with chopped parsley.