Grab something smooth and lush.  And, relax.
Charred aubergine flesh with bittersweet cumin, tangy tahini, citrus lemon juice, garlic, bitter parsley and touch of cayenne pepper; Baba Ganoush.
This dish will topple your belief that vegan food can't be super easy to make with a few household ingredients.
Make this:
When you want to relax in front of the computer as you tap away writing your next novel
When you've just put the wash on and gazing at the sun outside and a quick pick me up before you venture out
When you've returned from a vigorous afternoon at the gym and relatively simple dish is needed before you dress up for an evening out on the town
Baba Ganoush was inspired when eating meze in a quaint restaurant in the cobbled stones in Mykonos with an ex-beau.
Baba Ganoush began is story as an Arabic dish with mashed aubergine and sesame seed paste.  Today, it's a popular dish served in the Mediterranean as a meze.
Aubergines are a member of the night shade family. It's actually a fruit berry but used as a vegetable in cuisine.  It is native to Southeast Asia.
Baba Ganoush is vegan, a condiment, paleo and Levantine cuisine.
Love.
Edward x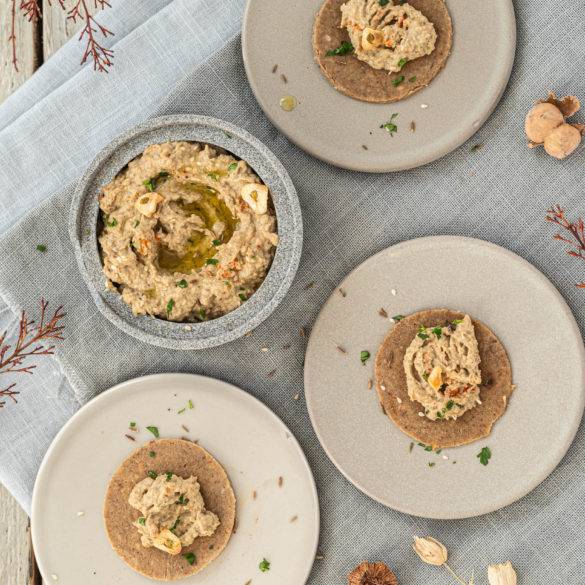 Ingredients
2 aubergines

2tbs olive oil

2 gloves of garlic

1tbs tahini

½ tsp cumin seeds

1tbs lemon, juice

Pinch of cayenne pepper

Season to taste

Few sprigs of parsley
Instructions
Preheat oven to gas mark 180 degrees Celsius, or if a convection oven at 160 degrees Celsius.
Dry roast the aubergine in a baking tray, for an hour, turning over every 20 minutes. Set to one side until cool and then remove the charred skin. Use both hands to drain any excess liquid.
Transfer the aubergine into a high-speed processor and add the remaining ingredients. Whizz until fine.
Serve with pita bread or crackers.