Country Millet is another one my traditional recipes which I have spruced up. I love the combination of textures and flavours to this dish.  The broad beans and tomatoes add pizzazz. Country Millet revitalised.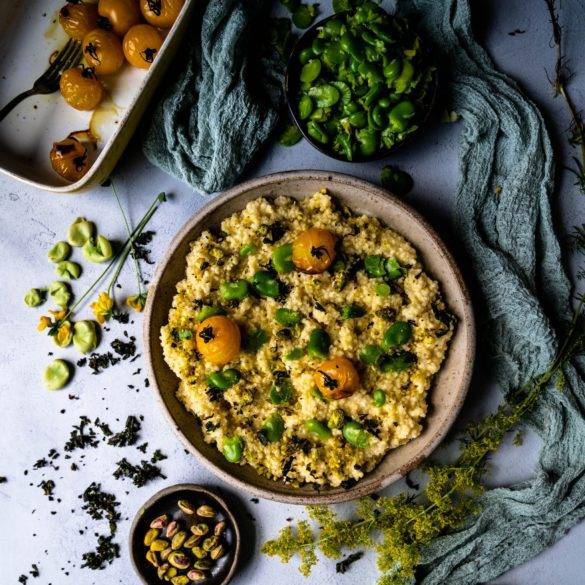 Ingredients
200g tomatoes
2 garlic cloves
200g millet
500g broad beans in pods (yields about 150g shelled)
4tbs extra virgin olive oil
1 onion
½ lemon, juice
1tbs amino acid
Garnishing
Few sprigs of mint
20g pistachios
Instructions
Preheat oven to gas mark 180 degrees Celsius.
Baste the tomatoes in 2tbs oil and roast the tomatoes and garlic in an ovenproof dish for about 30 minutes. Set to one side. Retain liquid
Blanche the broad beans in boiling water for three or four minutes. Gently remove from and discard the skins. (I retain the skins and use them in other dishes).
Sauté the onion in 2tbs oil until translucent. Set to one side
Cook the millet in water over a stove for about 30 minutes. Drain excess liquid and transfer to a large mixing bowl. Toss in the lemon juice, amino acid and season with salt and pepper. Combine in the onion, tomatoes and broad beans.
Garnish with mint and pistachios.
Serve warm.