There is something about an earthy onion, garlic and rosemary soup – I originally made this over Christmas and it served a delectable starter for guests I was staying with. A tribute to the wonderful cooking they had provided – this was my meagre offering in return…. The stock I used for the original dish was from the remnants of part boiled swede and parsley.
What to do next
Tag me on @ethiveganquantum on Instagram to show me what you've made and let me know you're happy for me to share.
My recipes are featured in vegan speciality publications: Nourished, Vegan Life, Plant Based and Vegan, Food and Living.
Order my first self-published book, "Essence: The Beginner's Guide to Veganism" part of the three-part Circle of Food series. My second book "Presence: The Ascending Vegan" – which explores how to maintain a vegan practice is out in 2027 – I have compiled all the chapters including recipes.
Going strong since 2013.
Love.
Edward x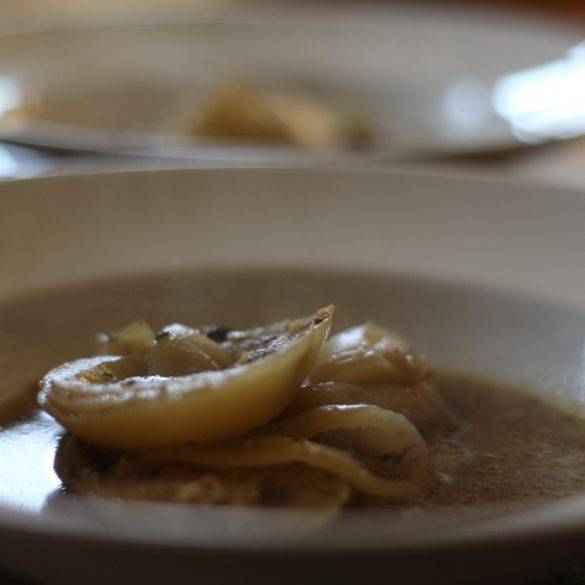 Ingredients
10g almonds
1 bulb of garlic
4tbs extra virgin olive oil
1 litre vegetable stock
3 large onions, sliced
4 sprigs of rosemary, grounded
6 juniper berries
Instructions
Pre-heat oven to gas mark 180 degrees Celsius.
Pre-soak the almonds in boiling water for twenty minutes. Remove and discard the skin. Place the almonds in grinder and pulse finely.
Sauté the garlic in olive oil until the garlic turns almost black.
In a large pyrex dish place the vegetable stock, sliced onions, rosemary, garlic, oil and almonds.
Take the juniper berries and with the back of a knife, gently open up pressing firmly on the berries. Place in the dish.
Leave in the oven to cook about an hour, stirring every 20 minutes. The soup is done when the onions change into a luscious translucent brown.
Season to taste and serve warm.
Notes
By Edward Daniel, Vegan Chef and Former Chair of The Vegan Society. Contributor to Vegan Life Magazine, Plant Based Magazine, Vegan Food and Living Magazine and OK! Magazine. Speaker and cooking demonstrator at Vegan Life Life Festival London, Mind Body and Spirit Festival London, Veganes Sommerfest Berlin, and Bali Vegan Festival. Author of "Essence: The Beginner's Guide to Veganism".