Hearty fava beans lentil soup infused with a dash of cumin, garlic, cayenne pepper and topped with parsley; Ful Medames.
Smother yourself with Ful Medames otherwise Egyptian Fava Bean Stew. And, breathe.
This dish will obliterate any belief that vegan food can't be fulfilling.
Make this:
When it's time to get the winter slippers out and a nourishing dish that'll have you all snuggled up will ground you back
When work's been overwhelming and a dish you can leave to pressure cook while you run the bath to unwind is just what is needed
When you're pushed for time and have to go for a bevvie later, and a dish you can leave to brew while you're getting ready
Ful Medames was inspired when staying with cousins in Casablanca and having a hearty breakfast of fava beans started the day on a high.
Ful Medames is traditionally eaten at the start of the day amongst the middle-eastern. It is actually very flavoursome.
Ful Medames otherwise Egyptian Fava Bean Stew is vegan.
What to do next
Tag me on @ethiveganquantum on Instagram to show me what you've made and let me know you're happy for me to share.
My recipes are featured in vegan speciality publications: Nourished, Vegan Life, Plant Based and Vegan, Food and Living.
Order my first self-published book, "Essence: The Beginner's Guide to Veganism" part of the three-part Circle of Food series. My second book "Presence: The Ascending Vegan" – which explores how to maintain a vegan practice is out in 2027 – I have compiled all the chapters including recipes.
Going strong since 2013.
Love.
Edward x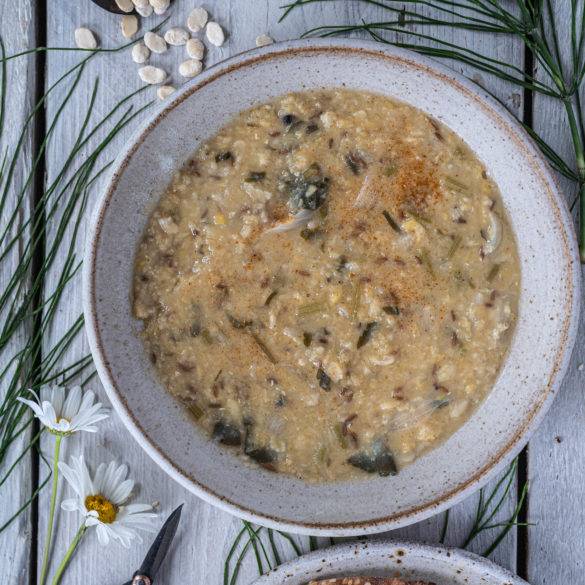 Ingredients
200g fava beans, dried

4tbs extra virgin olive oil

2 onions

2tbs cumin

¼ tsp cayenne pepper

150g lentils

2 litres filtered water

2 cloves garlic, sliced

1tsp salt

1/2tsp pepper

Few sprigs of parsley

¼ lemon, juice
Instructions
Pre-soak the fava beans in water, overnight.
Sauté the onions in olive oil until translucent in a frying pan. Transfer to a pressure cooker.
To the pressure cooker, add the drained fava beans, lentils, garlic, cumin, cayenne pepper, salt and pepper, a few sprigs of parsley and water. Cover with the lid. When the pressure cook starts to steam, cook in for a further 15 minutes. De-pressurise and set aside.
Season further to taste and garnish with chopped parsley. Drizzle in the lemon juice.
Serve.