Burst tart cranberry with sour apples on a biscuit bed and crumble topping, with hints of lemon seeping through; Cranberry and Apple Streusel.
Grab something moist and tantalising as you slip it into your pecker. And, salivate.
This dish will trample any belief that vegan food can't be super yummy.
Make this:
As the cold nights draw in and the abundance of cranberries are at their peak, make this dish to savour the delights of this autumnal berry
When you've got a festive dinner party organised and need a dessert that'll get your guests salivating at your creations
When you fancy putting a little something special for kiddies luncheon box that will have them all excited
Cranberry and Apple Streusel was inspired by local Winter Fairs while visiting friends in the North. Bundles of small cakes and tarts sold in beautiful casings.
Cranberries are scarlet bitter berries native to central and northern Europe and North America.  Rich it antioxitants it protects against free radical damage. It is an effective treatment for urinary tract infections.
Cooking apples tend to be larger than normal desserts with a firm flesh that softens as it cooks to release its tart juices.
Cranberry and Apple Streusel is another one of those warm sensational desserts. It makes for a good party but also to secretly tuck away on your own, while there are no peering eyes.
Blanched almonds, I purchase from a nifty Asian outlet in Hayes.  It has an online presence too which can be found here – I love it because it is reasonably priced and tends to be good quality stuff which I use.
Cranberry and Apple Streusel is vegan and gluten-free.
What to do next
Tag me on @ethiveganquantum on Instagram to show me what you've made and let me know you're happy for me to share.
My recipes are featured in vegan speciality publications: Nourished, Vegan Life, Plant Based and Vegan, Food and Living.
Order my first self-published book, "Essence: The Beginner's Guide to Veganism" part of the three-part Circle of Food series. My second book "Presence: The Ascending Vegan" – which explores how to maintain a vegan practice is out in 2027 – I have compiled all the chapters including recipes.
Going strong since 2013.
Love.
Edward x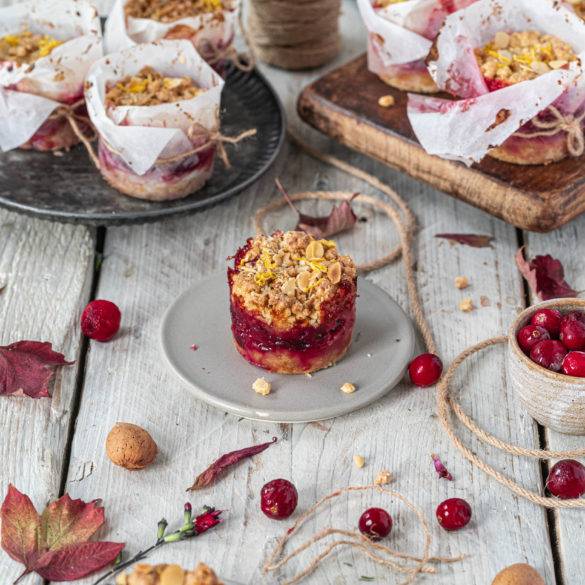 Ingredients
300g cranberries

approx 400g cooking apples

50g unrefined cane sugar

½ lemon, juice

250g millet

40g oats

40g flaxseeds

60g tapioca flour

125g almonds, blanched ground

125g unrefined cane sugar

zest of 1 lemon

200g coconut oil, chilled and diced

Garnishing

Sprinkle of blanched almonds
Instructions
Ensure the coconut oil has been well refrigerated beforehand, to ensure a crumbly texture.
Core and peel the apples and place with the cranberries, sugar and lemon juice in a mixing bowl. Set to one side.
Preheat the oven to 180 degrees Celsius or if you have convention oven to 160 degrees Celsius.
In a high-speed blender, grind the mill, oats, flaxseeds, almonds and sugar. Transfer to a large mixing bowl.
Add in the coconut oil. Using your fingers gentle mix the ingredients until no longer lumpy and resemble a crumbly texture.
In a 12-hole mini cake tin line with oil and parchment paper round the side. (Alternatively, do this with a 9-inch cake tray).
Spoon in half the crumble at the base of the cake tin. Layer on the cranberry and apple on top. Cover with the remaining crumble.
Place in the oven for about 25 until the top is golden and the juices bubble over the sides. Remove from the oven and sprinkle over some blanched almonds. Return to the oven for a further 10 minutes.
Permit the streusel to cool and run a knife around the edges before removing and placing on a serving tray.