Fig and Walnut Mincemeat came about because I wanted to create my own version of mincemeat to use in a Christmas Pudding recipe but also in mince pies. This recipe is full of fruity opulence. What I love about this recipe is that it is raw and the flavours seeps through without additional sugar.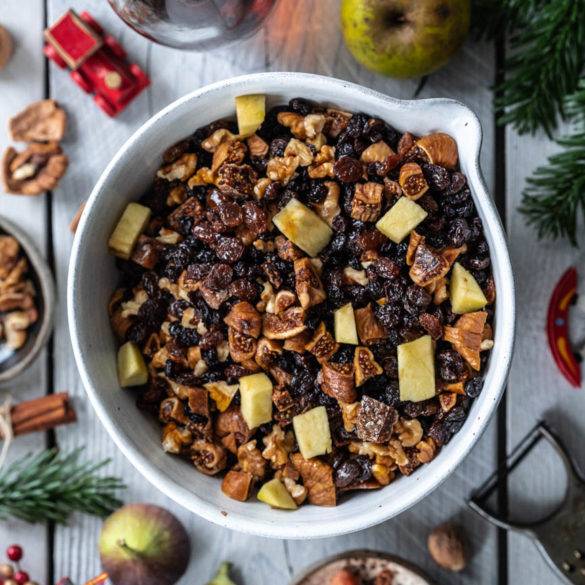 Ingredients
600g cooking apples
350g dried figs
100g whole candied orange peel
100g whole candied lemon peel
200g walnut pieces
150g seedless raisins
250g currents
150g sultanas
1tsp cinnamon ground
1tsp freshly grated nutmeg
1tsp mace, ground
250ml Marsala wine
Instructions
Peel, core and finely chop the apples.
Chop the peel and figs.
Chop the walnuts in a chopper.
Mix all ingredients into a large china or wooden bowl.
Cover with a clean cloth and leave to stand overnight.
Stir again, then pot into sterilised jars.
Store in a cool dark place. You can either allow the flavours to mature for about 4 to 6 weeks or use within that period.
Notes
By Edward Daniel, Vegan Chef and Former Chair of The Vegan Society. Contributor to Vegan Life Magazine, Plant Based Magazine, Vegan Food and Living Magazine and OK! Magazine. Speaker and cooking demonstrator at Vegan Life Life Festival London, Mind Body and Spirit Festival London, Veganes Sommerfest Berlin, and Bali Vegan Festival. Author of "Essence: The Beginner's Guide to Veganism".