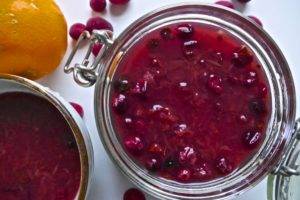 Cranberry and Orange Sauce
Cranberry and Orange Sauce makes a great accompaniment to any meal, especially at Christmas. What I love about these fruity flavours is this sharp tanginess of the Cranberries, which complement the citric taste of the Orange.
Cuisine:
Vegan, Wholefoods
Ingredients
200g Cranberries
150g unrefined raw cane sugar
1 litre filtered water
1 star anise
3 cloves of India
1 black cardamom (if unavailable, use 1 green cardamom)
1 rind and juice of orange
Instructions
Cut the orange in two and squeeze out the juice. Reserve the juice for later.
Place the orange rind with all the remaining ingredients in a non-stick saucepan. Bring to the boil and then using the smallest ring if on gas fire, cover partially and gently simmer for about 3 hours.
Remove and discard the orange rind. Allow to cool.
Stir in the orange juice and then pot into sterilised jars.
Store in a cool dark place.
_____________________________________________________
EthiVegan by Edward Daniel
Thank you for taking the time to view my recipes, interviews and events pages.  I hope I inspire you to make these recipes and also inspire you to become very best versions of yourself.
You can follow me on Instagram here (@ethivegan) where I have quick one minute update videos and for interviews and cooking demonstrations you can subscribe to my Youtube channel here.  You can watch live cooking demonstrations by subscribing to my Facebook profile here (@ethivegan).
For more information about me – click here
See you soon.
Love.
Edward x
Edward Daniel | Vegan Chef