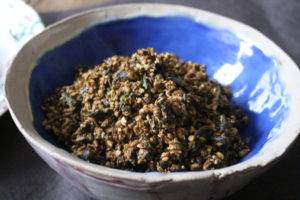 Raw Sunflower Seed Knotted Wrack Salad
Sunflower Seed Knotted Wrack Salad makes an exotic addition to one's reportiore. I made this recently for my book launch party. I love the sultry colours of the seaweed that mesh with that of the sunflower seeds. Seaweed tends to be versatile and great to eat raw.
Recipe type:
Salad, Main, Side
Ingredients
200g knotted wrack (also known as egg wrack seaweed)
100g sunflower seed
100ml vegan cream
2tsp tahini
2 shallots, finely chopped
few sprigs of dill, finely chopped
½ lemon juice
2 gloves garlic, chopped finely
1 inch ginger grated
½ tsp rock salt
Instructions
Soak the sunflower seeds in filtered water for about 20 minutes. Drain and set to one side.
Using a pair of scissors cut the seaweed into strips of 3 to 4 millimetres. Place in a large bowl.
Add the sunflower seeds and remaining ingredients to the seaweed and mix well.
Serve.
EthiVegan by Edward Daniel
What future would you like to paint? What I say is that it is possible to lead a fulfilling life by going within, living in alignment, letting go of the past and thriving on a vegan diet.
If you want to uncover your purpose and live a more enriching life, why not purchase my book "Essence: The Beginner's Guide to Veganism"?
To order your copy of "Essence: The Beginner's Guide to Veganism" click here
Subscribe to my EthiVegan Youtube channel – click here
For more information about me, Meet the author – click
Thanks for viewing my recipes and interviews.
Love you all.
Edward x
Edward Daniel | Servant to Humanity | Second Wave | Chef | Media IT IP Solicitor | Author | Presenter | Former Chair, The Vegan Society