This dish took several attempts to perfect – I had to be creative without eggs for this dish yet retain the texture of a clafoutis. The Lemoncello is simply the icing on the cake and transform this dish into something really slightly alcoholic and slightly naughty….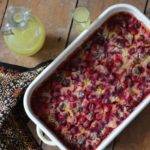 Ingredients
400g cranberries
2 large oranges
250ml oat cream
25g icing sugar
75g semolina
1tsp agar agar
4 tbs lemoncello
Instructions
Pre-heat oven to gas mark 180 degrees Celsius.
Place the cranberries in the bottom of an oven proof dish.
Pulse the oranges in a blender and place over the cranberries.
Blend the oat cream, icing sugar, semonlina and agar agar and pour over the cranberry and orange mixture.
Leave in the oven to cook for about 20 minutes.
Remove from the oven and pour over the lemoncello.
Serve warm with cream
Notes
By Edward Daniel, Vegan Chef and Former Chair of The Vegan Society. Contributor to Vegan Life Magazine, Plant Based Magazine, Vegan Food and Living Magazine and OK! Magazine. Speaker and cooking demonstrator at Vegan Life Life Festival London, Mind Body and Spirit Festival London, Veganes Sommerfest Berlin, and Bali Vegan Festival. Author of "Essence: The Beginner's Guide to Veganism".