Sliced beetroot potato scattered on a bed of marrow seaweed sauce flavoured with fenugreek, sumac, chervil and rosemary; Crispy Beetroot Marrow Bake.
Dribble over vegetables and get your sexual prowess going. And, arouse.
This dish will disintegrate any misbelief that vegan food can't be super filling.
Make this:
When you've got a Sunday roast to rustle up and don't want to be sweltering too much in the kitchen
When you've got your beau/belle over some nosh and need a dish that'll get them whispering in the ear for the recipe
When your taste buds are itching for an explosion that'll have biting into an array of flavours
Crispy Beetroot Marrow Bake was inspired when friend gifted some organic marrow.  A couple of visiting chefs then passed by and using the marrow, with beetroot and potatoes was an opportunity to get creative.
What I love about this dish is the crispy texture of the beetroot and potato that sit over the marrow seaweed sauce. Each plant has its own flavour not overpowered by the contrasting taste of others. Marrow presents a very delicate flavour too.
In Asian cuisine Fenugreek is referred to as Methi. What you may not have been aware, is Fenugreek is known for boosting endurance and even sexual stamina.
Crispy Beetroot Marrow Bake is vegan.
What to do next
Tag me on @ethiveganquantum on Instagram to show me what you've made and let me know you're happy for me to share.
My recipes are featured in vegan speciality publications: Nourished, Vegan Life, Plant Based and Vegan, Food and Living.
Order my first self-published book, "Essence: The Beginner's Guide to Veganism" part of the three-part Circle of Food series. My second book "Presence: The Ascending Vegan" – which explores how to maintain a vegan practice is out in 2027 – I have compiled all the chapters including recipes.
Going strong since 2013.
Love.
Edward x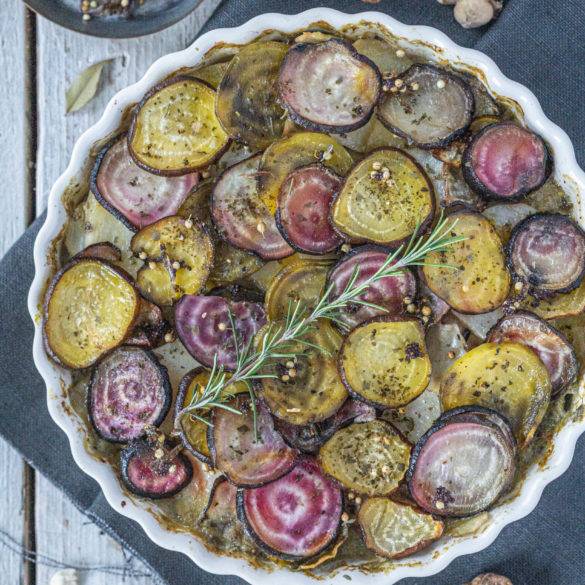 Ingredients
For filling

10g Seaweed (Nori) dried

½tsp fenugreek seeds

750g young marrow

½ lemon, juice

1tsp chervil

½tsp sumac

1tsp rosemary, chopped

25g nutritional yeast

Pinch of salt

1 red onion

2tsb olive oil

2 garlic cloves, minced

1tsp coriander seeds

1tsp mustard seeds

pepper to season

For topping

500g beetroots

500g potatoes

2tbs olive oil

½tsp salt

Couple of sprigs of rosemary
Instructions
Preheat oven to 180 degrees Celsius, if a convection oven to 160 degrees Celsius.
Grind the Seaweed with fenugreek in a grinder until fine.
If the skin of the marrow is not supple, remove with a peeler. Otherwise, blend well in a blender. Transfer to a large bowl.
Add the chervil, sumac, rosemary, nutritional yeast and salt to the marrow
Sauté the onion in the olive oil until translucent. Add the garlic, coriander and mustard and seeds continue cooking under a medium heat for a couple of minutes until the coriander seeds start to turn golden. Switch off the heat and transfer to the marrow in the bowl.
Have some water boiling to the side. Taking a mandolin or spiraliser, finely slice the beetroots and potatoes. Transfer to a large bowl with melted coconut oil and salt. Use a spatula to turn the sliced vegetables so that they are covered in oil.
Line the marrow in a large ovenproof dish. Line the beetroot and potato on top.
Cover with aluminium foil and bake in the oven for about 30 minutes. Remove the foil and bake for a further 15 minutes.
Serve warm.