I love Crown Prince Squash particularly when it helps draw out flavours of the fragrant cardamoms, cinnamon and oregano. It is a great centre piece to bring out at a meal. Crown Prince Squash stuffed with Fine Beans Walnuts and Quinoa is sure to delight.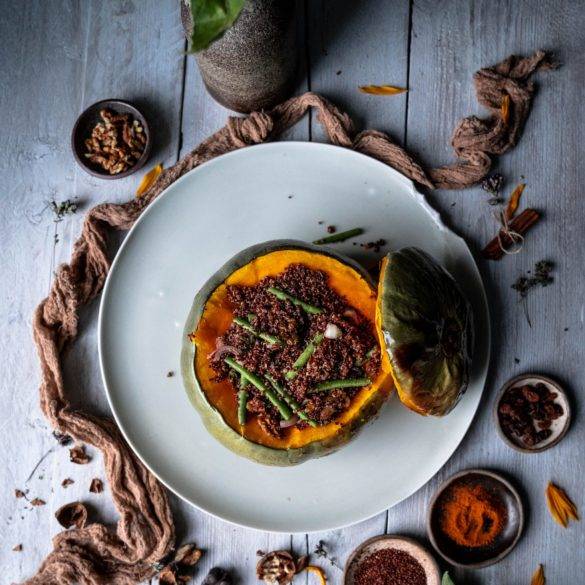 Ingredients
1 crown prince squash (1.5kg)
2tbs olive oil
180g quinoa
2 shallots, chopped
2 garlic cloves, chopped
3tbs extra virgin olive oil
50g sultanas
50g walnuts
150g fine beans
1/4tsp cayenne pepper
4 cardamoms, deseeded
½ cinnamon stick, grounded
1tsp oregano
½ tsp salt
Instructions
Preheat oven to gas mark 180 degrees Celsius or if you have a fan oven 160 degrees Celsius.
Place the squash in an ovenproof dish. Using a pastry brush baste the squash in olive oil. Place in the oven for about 20 minutes. Set aside.
Soak the sultanas in lukewarm water and set aside.
Cover the quinoa with at least two or threes times as much water and cook for about 20 minutes. Drain and set aside.
Sauté the shallots in the oil until translucent. Add the garlic cloves.
Place the quinoa in a large mixing bowl. Add the cayenne pepper, cardamom seeds, cinnamon, oregano and salt. Mix well. Finally, stir in the sultanas, walnuts, fine beans.
Remove the top of the squash and using a tablespoon, scoop out the seeds. Discard the seeds.
Fill the squash with the fine bean, walnut and quinoa mixture. Place the top of the squash back on. Return to the oven and cook for a further 40 minutes.
Serve warm.