Rose Chocolate and Pomegranate Mousse is one of those lush desserts to sink into. I love the umami flavours of this dessert, which improve with time.  I prefer to leave this Rose Chocolate and Pomegranate Mousse overnight to allow the flavours to meld.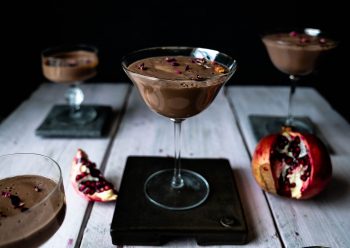 Ingredients
600g silken tofu
100g pomegranate seeds
75ml maple syrup
75g raw unrefined cane sugar
1tbs lemon, juice
1tsp rose water
1/2tsp vanilla extract
1/2tsp tamari
Pinch of salt
50g cocoa powder
Garnishing
Rose petals
Instructions
Place the sugar in a grinder and pulse until fine. Place into a blender with the remaining ingredients. The mousse should be thick. Switch off the mixer. The chocolate mousse should be a rich lush colour.
Transfer the mousse to a serving bowl or into bowls and place in the fridge for about an hour. (Leave overnight if possible to allow the flavours to meld).
Serve chilled. Garnish with some rose petals, if preferred.
Notes
By Edward Daniel, Vegan Chef and Former Chair of The Vegan Society. Contributor to Vegan Life Magazine, Plant Based Magazine, Vegan Food and Living Magazine and OK! Magazine. Speaker and cooking demonstrator at Vegan Life Life Festival London, Mind Body and Spirit Festival London, Veganes Sommerfest Berlin, and Bali Vegan Festival. Author of "Essence: The Beginner's Guide to Veganism".