Take a spoon of lushness and let it slide down your throat. And, bliss out.
Freshly picked tart ripe damsons over a creamy cacao sesame filling on a mulberry pecan biscuit; Damson Cheesecake.
This dish will tear away any doubts that vegan food can't be super yummy.
Make this:
When it's hot outside, and want an alfresco dinner party and need a dessert that'll get your guests chomping at the bits
When your neighbours have invited you over for a nosh and you've been tasked to bring a swanky dessert that'll get them knocking down your door for the recipe
When you've had a hedgerow forage of damsons on your country walk and return home to rustle up a hearted yet scrumptious dessert
Damson Cheesecake was inspired when picking delicious ripe Damsons from Sadeh Farm in Kent learning regenerative land practices. Now, I pick up from a friend's farm in Cornwall each year, standing on a ladder to freshly pluck clusters of juicy damsons.
Damsons are purplish-blue, oval shaped and ripen towards the end of summer and early autumn.  It is high in dietary fibre, key to help good digestion.
Damson Cheesecake is vegan, paleo, raw and gluten-free.
Love.
Edward x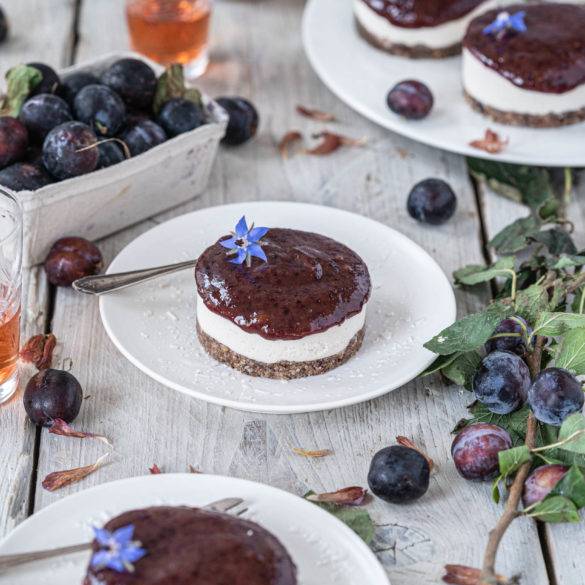 Ingredients
Topping
300g damsons
75g raw unrefined cane sugar
½ tsp xanthan gum
Pinch of salt
Filling
5g Irish Moss
250ml filtered water
100g sesame seeds
100g almonds, blanched
75g xylitol
60g cacao butter
1tsp vanilla extract
½ lime juice
Pinch of salt
For base
50g mulberries
85g currants
75g coconut desiccated
75g pecans
Instructions
In a high-speed food processor mix together the mulberries, currants, coconut, and pecan until it forms a gelled consistency.
Place the tart shells on top of acetate paper on a baking tray. Cut the acetate paper so that it can go round the edge of the tart shells. If you don't have tart shells, use a cake tin with a loose bottom – which line with parchment paper and parchment paper round the sides.
Use your hands and pat to form a biscuit. Repeat with each tart shell. Refrigerate overnight.
Make the filling by soaking the Irish Moss in 150ml water and set aside overnight. Soak the almonds in the remaining 100ml water and set aside overnight too.
In a high-speed blender and blend the sesame seeds, almonds and xylitol until fine. Add in the Irish Moss. Continue to blend.
Melt the cacao butter over a bain-marie (i.e. in a glass bowl over a saucepan full of water) until the butter melts. Pour into the blender with the sesame seed filling.
Add in the vanilla extract, juice and salt. Combine.
Transfer the filling into a large mixing bowl and then spoon the filling on top of the biscuit. Place the cheesecake the freezer for at least a couple of hours.
Deseed the damsons. Make the topping by using a dough hook on a food mixer whizzing together the damsons, sugar and xanthan gum. Spoon over the cheesecake. Return to the freezer for at least a couple of hours or until ready to serve.
When serving remove the acetate paper (you can reuse the acetate paper again) and serve on some dinky plates.