Pumpkin Pie spiced with liquorice-like Star Anise, sweet cinnamon, peppery allspice and woody cloves with an amaranth pastry.
Tempt yourself into oblivion by downing something scrumptious. And, buckle.
This dish will stampede any belief that vegan food can't be super tasty.
Make this:
When your favourite Uncle Ben is over for supper and a sweet dessert will have you begging for seconds
When it's Thanksgiving time and a scrumptious pumpkin pie is the order of the day
When you've got pumpkins coming out of your ears and super scrummy dessert will have you satiated
Pumpkin Pie was inspired when attending an American friend's party and though he'd got shop bought, gave a thought to create my very own version.
Pumpkin Pie has that warm feeling. Yet this pumpkin pie has a slight spicy kick to it.
Pumpkin is so versatile, used for savouries and sweets.  It is a winter squash and fruit, native to America. It's a rich source of beta-carotene, a powerful antioxidant, helping protects eyes and improving skin texture.
Pumpkin Pie is vegan, paleo and gluten-free.
Where I get my ingredients from
Prune puree, I purchase from Urban Native Organics and Wholefoods in Stroud Green, London.  It's a small store, which I support.  You can find them here 
It's the Clearspring brand that I use of the Prune puree.  Normally, once open, I place in the freezer for use subsequently.  This keeps it fresh and available to use at any time.
Amaranth seeds, I get from a non-profit small charitable store in Stoke Newington, London – I like to support small outlets, where I can.  You can find the shop here
What equipment to use
 For this recipe, I suggest:
High speed blender
Oven
What to do next
Tag me on @ethiveganquantum on Instagram to show me what you've made and let me know you're happy for me to share.
My recipes are featured in vegan speciality publications: Nourished, Vegan Life, Plant Based and Vegan, Food and Living.
Order my first self-published book, "Essence: The Beginner's Guide to Veganism" part of the three-part Circle of Food series. My second book "Presence: The Ascending Vegan" – which explores how to maintain a vegan practice is out in 2027 – I have compiled all the chapters including recipes.
Going strong since 2013.
Love.
Edward x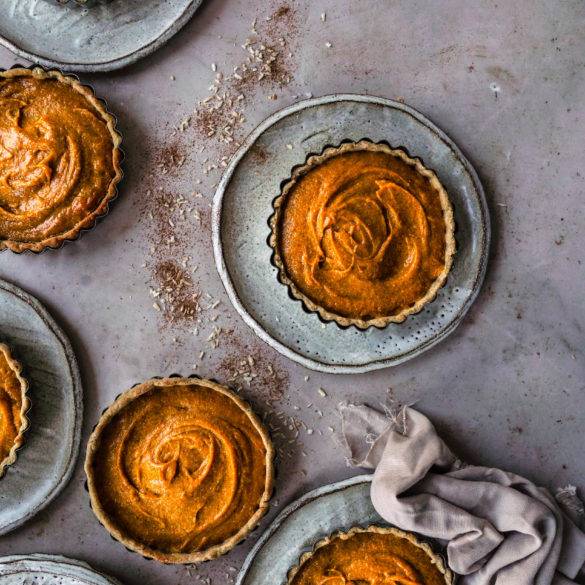 Ingredients
Filling

550g pumpkin flesh

100ml coconut milk

150g unrefined cane sugar

50g flaxseeds

25g oats

3 cloves of India

3 allspice

1 Star anise

1tsp cinnamon, ground

Dry ingredients

100g amaranth seeds

50g oats

25g flaxseeds

25g unrefined cane sugar

Pinch of salt

75g tapioca

Wet ingredients

30g prune puree

8tbs filtered water

40g coconut oil

Garnishing

Oats and coconut flakes

Olive oil for lining
Instructions
Pre-heat oven to 180 degrees Celsius or if you have a convention fan, to 160 degrees Celsius.
Place the pumpkin a baking tray and bake for 45 minutes. Remove and allow to cool. Discard skin and seeds and weigh 550g of pumpkin flesh.
Blend the pumpkin flesh in a food processor and set to one side in a large mixing bowl.
In a high-speed blender grind the sugar, flaxseeds, cloves, allspice, Star anise and cinnamon stick until fine. Add to the pumpkin puree and pour in the coconut milk. Combine well. Set to one side.
Line a flan dish or if making mini, line 6 5-inch mini flan dishes with olive oil.
Make the pastry by placing the dry ingredients (not tapioca flour) into a high-speed blender and blending till fine. Transfer to a large mixing bowl add in the tapioca flour.
Toss in the prune puree and mix with hands. Next add the water. Continue using the hands. Then add the oil and knead into a bowl. Cover and set aside for 20 minutes.
Form the dough into a ball and place between two sheets of baking paper. Roll out the dough into a thin circular layer. Remove one sheet and place around the flan dish.
Prick the pastry and place in the oven for about 5 minutes.
Take the pastry from the oven and spread the pumpkin puree mixture the pastry. Gently smooth the puree.
Place the pie in the oven for 15 minutes.
Serve the Pumpkin Pie with Ice cream.