Fragrant dill and mint herbed rice made in wine, garlic and lemon, wrapped in brined vine leaves; Dolmades.
Drool over something moist and soft. And, bite.
This dish will topple your belief that vegan food can't be super scrumptious.
Make this:
When you've got a birthday party to organise. A light starter that will get your guests raving for more
When fancy a meze style buffet as mates gather for a soiree. You're the host with the most-ness
When you're scratching your head over what to pack in their lunch boxes. These little parcels will quench their appetite as a snack or starter
Dolmades was inspired when visiting Naxos in Greece. I was Island hopping. I'd just arrived on my boat. It was the first time I had tasted these Greek beauties. You can usually find these amongst starters or meze served  in most traditional Greek Restaurants.
This savoury dish is vegan and Greek cuisine.
What equipment to use
For this recipe, I suggest:
Stove
What to do next
Tag me on @ethiveganquantum on Instagram to show me what you've made and let me know you're happy for me to share.
My recipes are featured in vegan speciality publications: Nourished, Vegan Life, Plant Based and Vegan, Food and Living.
Order my first self-published book, "Essence: The Beginner's Guide to Veganism" part of the three-part Circle of Food series. My second book "Presence: The Ascending Vegan" – which explores how to maintain a vegan practice is out in 2027 – I have compiled all the chapters including recipes.
Going strong since 2013.
Love.
Edward x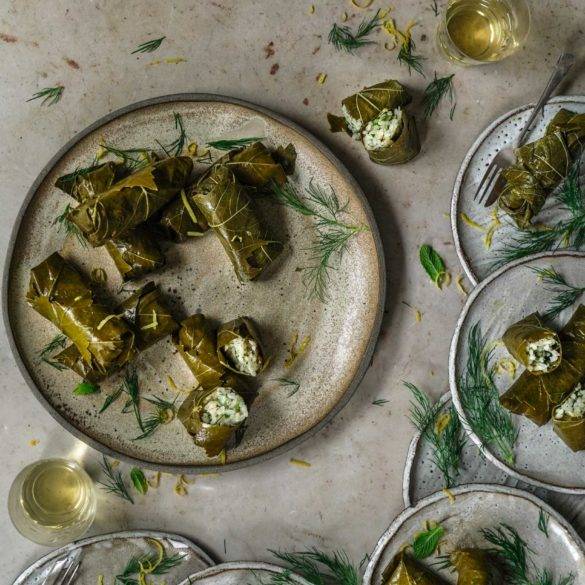 Ingredients
4tbs olive oil

2 shallots, chopped finely

250g short grain rice

400ml water

200g white wine

4tsb, fresh dill chopped

2tsb, fresh mint, chopped

1 lemon freshly squeezed

2 cloves garlic minced

pinch of paprika

20 vine leaves, brined

lemon for garnishing

oil for garnishing
Instructions
Sauté the shallots in olive oil until translucent.
Toss in the rice and sauté for a couple of minutes, ensuring that the oil coats the rice.
Ladle in the water a little at a time until absorbed. Bring to the boil and reduce in heat, leaving to simmer.
As the water evaporates, pour in the white wine a little at a time and continue to simmer. The wine should evaporate. Use a spatula to scrape the edges. Cook until the rice becomes soft and supple. Switch off the heat and leave to one side. This will take about 25 mins,
Finely chop the dill and mint. Squeeze in the lemon juice. Toss into the rice together with the minced garlic and paprika. Combine well.
Place the leaf on a chopping board. Place a spoonful of the herbed rice into the centre of the leaf. Wrap one side and then the other over the vine leaf and turn over so that the herbed rice is wrapped into an oblong shape.
Repeat stuffing the vine leaves until complete.
Place the vine leaves into a serving dish. Garnish with lemons and drizzle with oil. Serve immediately. Store any leftovers in sealed containers and consume within three or four days.