Sticky toffee fig and walnut pudding simply melts in the mouth and reminds me of my former school days littered with indulgent puddings.  I love this pudding for its lushness.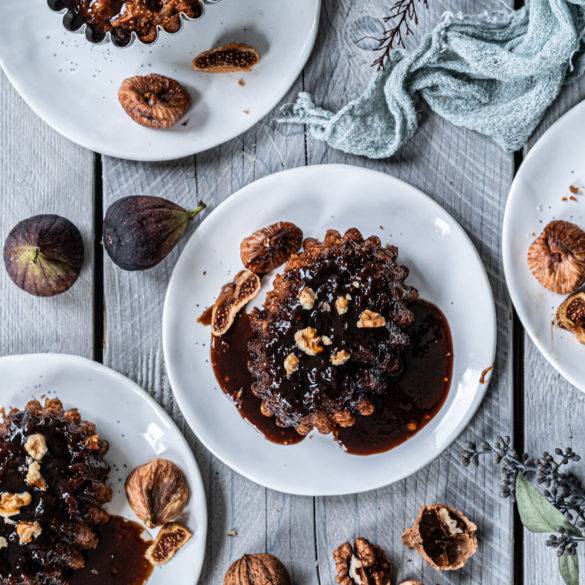 Ingredients
For the toffee sauce
200g dark muscovado sugar
50ml coconut oil
20g oats. ground
200ml filtered water
For the pudding
250g figs, dried
250g water
18g fresh yeast
10g almonds
50ml extra virgin olive oil
75g light brown sugar
100g brown rice flour
100g buckwheat
1tsp vanilla extract
1 clove of India, grounded
¼tsp cinnamon, grounded
¼tsp mixed spice, ground
50g walnuts
Instructions
To make the toffee sauce, whizz the oats in a blender. Set to one side.
Over a low heat melt the muscovado sugar in olive oil. Stir until dissolved. Add in the water. Continue stirring. Once it comes to the boil add in the oats.  Allow the sauce to thicken. Switch off the heat.
Line a loaf tin with baking parchment. Place half the sauce into a loaf tin and leave to cool in the freezer while you make the rest of the ingredients. Leave the other half of the sauce at room temperature for later.
Stir the yeast in lukewarm water. Soak the dried figs in water and leave to one side.
To make the pudding, place the buckwheat, flaxseeds, sugar, almonds, clove of India, and cinnamon and allspice in a highspeed and whizz finely. Transfer to a large mixing bowl. Add in the brown rice flour.
Fold in the figs, water and yeast with a spatula. Add in the vanilla extract and oil.
Finally, fold in the walnuts. Set aside for about an hour.
Preheat the oven to 180 degrees Celsius.
Remove the loaf tin from the freezer and using a spatula spoon in the pudding mixture into the loaf. Gently smooth over the mixture with the spatula to a flat surface.
Cover the dish with parchment paper and bake in the oven for about 20 minutes. Remove from the oven. Take off the parchment and continue to cook for a further 12 minutes. The pudding is done when you can put a skewer through the centre and it comes out clean.
When the pudding is baked, remove from the heat. Go around pricking the pudding with the skewer all over. Pour over the remaining toffee sauce to the top of the pudding. Alternatively, transfer the dish to a large serving dish. Turn over the pudding and pour the remaining toffee sauce.
Serve immediately.