Grab something creamy and warming down your throat. And, indulge.
Creamy sweet earthy Swede tossed and fried with delicate nutty rice and red onion garnished with sprigs of parsley.
This dish will burst any belief that vegan food isn't easy to rustle up.
Make this:
As autumn approaches and you need a warming dish that'll have you cosying up to the fireplace
When you're fed up with just plain brown rice and need a dish to spruce up your left overs and add a little colour to your meal
When got greens vegetables on the go and need a complementary dish to go with it
Swede Fried Rice was inspired one day when left over rice in the fridge looked unappetising. A thought came to jaunty it up with swede and red onion. Colour and flavour burst forwards.
Swede is a root vegetable grown and endures all over the world. It's a good source of dietary fibre and assist with restoring microflora.
Swede Fried Rice is vegan.
Love.
Edward x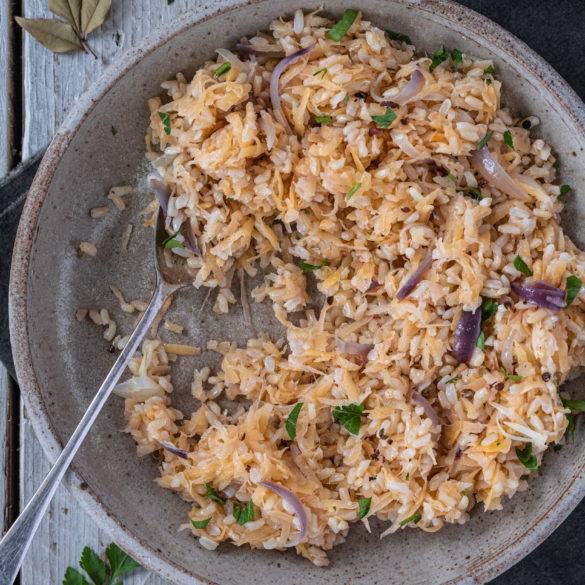 Ingredients
400g swede

200g brown rice, left over

1 red onion, chopped

3 tbs coconut oil

salt and pepper to season

Few sprigs of parsley
Instructions
Steam the rice in filtered water for about 30 minutes until cooked and set to one side in the fridge.
Peel and grate the swede.
Sauté the onion with the swede in coconut oil in a large wok until the onion turns translucent and the swede turns a rich golden colour.
Toss in the brown rice. Season with salt and pepper. Heat for about 5 to 10 minutes under a medium heat until sufficiently warm. Season to taste.
Garnish with chopped parsley.
Serve.