Marrow and Dulse Stew came about because a couple of my friends kindly donated some organic marrow. It was a case of using such generosity to create a new recipe. I had some dulse left over and wanted a dish with subtle flavours and toss in some Wasabi. I do not use oil in this recipe.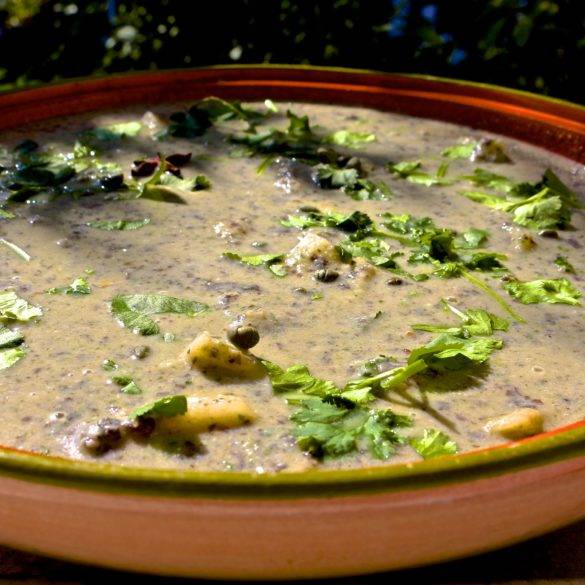 Ingredients
1kg Marrow (organic)
1 litre filtered water
25g dulse, dried
1 shallot, chopped
4 cloves of garlic (smoked, optional), chopped
1 star anise
1tsb wasabi
1tsb caraway seeds
1tsb teriyaki sauce
1tsb capers
few sprigs of coriander
Instructions
Skin the marrow. Roughly chop the marrow into chunks. Place the skin and chunks into a large saucepan.
Add in the water, dulse, shallots, garlic, star anise, wasabi, caraway seeds, teriyaki sauce and capers.
Bring to the boil and simmer for 20 minutes. Switch off the heat.
Using a ladle remove the skin with some of the liquid and blend to a fine consistency in a blender. Return to the sauce pan. Stir.
Notes
By Edward Daniel, Vegan Chef and Former Chair of The Vegan Society. Contributor to Vegan Life Magazine, Plant Based Magazine, Vegan Food and Living Magazine and OK! Magazine. Speaker and cooking demonstrator at Vegan Life Life Festival London, Mind Body and Spirit Festival London, Veganes Sommerfest Berlin, and Bali Vegan Festival. Author of "Essence: The Beginner's Guide to Veganism".