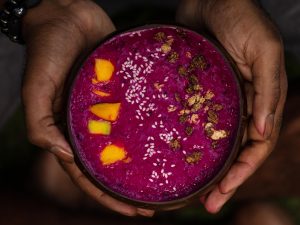 Dragon Fruit Smoothie Bowl
Dragon Fruit Smoothie Bowl was inspired through being in Bali, where I was invited to speak at the Bali Vegan Festival 2018. I just love the simplicity of this dish which is not only nutritious but brings me back to nature. It is a great way to start the day. This dish is one person.
Cuisine:
Vegan, Paleovegan, Paleo, Raw
Ingredients
½ dragon fruit
1 banana
2tbs flaxseeds, ground
250ml vegan milk
Sesame seeds for garnishing
25g granola
Instructions
Place the dragon fruit, banana, flaxseeds and vegan milk in a blender and combine well. Transfer to a serving bowl.
Top the dish with sesame seeds and granola.
Serve.