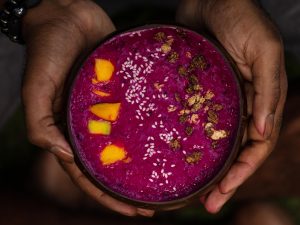 Dragon Fruit Smoothie Bowl
Dragon Fruit Smoothie Bowl was inspired through being in Bali, where I was invited to speak at the Bali Vegan Festival 2018. I just love the simplicity of this dish which is not only nutritious but brings me back to nature. It is a great way to start the day. This dish is one person.
Cuisine:
Vegan, Paleovegan, Paleo, Raw
Ingredients
½ dragon fruit
1 banana
2tbs flaxseeds, ground
250ml vegan milk
Sesame seeds for garnishing
25g granola
Instructions
Place the dragon fruit, banana, flaxseeds and vegan milk in a blender and combine well. Transfer to a serving bowl.
Top the dish with sesame seeds and granola.
Serve.
_____________________________________________________
EthiVegan by Edward Daniel
What future would you like to paint? What I say is that it is possible to lead a fulfilling life by going within, living in alignment, letting go of the past and thriving on a vegan diet.
If you want to uncover your purpose and live a more enriching life, why not purchase my book "Essence: The Beginner's Guide to Veganism"?
To order your copy of "Essence: The Beginner's Guide to Veganism" click here
Subscribe to my EthiVegan Youtube channel – click here
For more information about me, Meet the author – click
Thanks for viewing my recipes and interviews.
Love you all.
Edward x
Edward Daniel | Servant to Humanity | Second Wave | Chef | Digital Information and Media Solicitor | Author | Poet | Presenter | Former Chair, The Vegan Society