Vegetable Curry Laksa came about purely because I was in Bali and was able to find fresh laksa leaves. For me this is an absolute treat as a chef. I get to experiment and to try new ingredients or ingredients available in other formats than I am used to in London. Also, I do not like to overcook my ingredients – so the beans and carrots in this dish retain their crunch flavour. I love this dish because you can taste the subtle flavours on both the laksa and curry leaves. This dish is for four servings.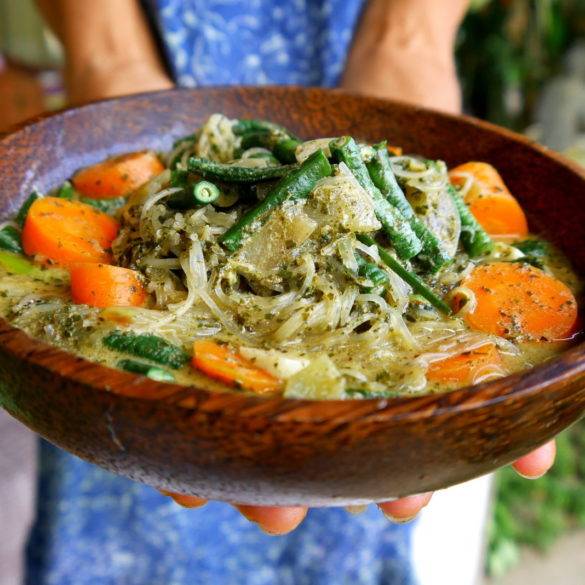 Ingredients
2tbs coconut oil

Small bunch of laksa leaves (or 2 tbs dried laksa leaves)

Small bunch of curry leaves (or 2 tbs dried curry leaves)

6 garlic gloves

1 inch of fresh ginger, grated

1 medium size onion

500ml coconut milk

75g rice vermicelli

5 shallots, chopped

1tsp paprika

Pinch of salt

150g long beans

150g carrots
Instructions
Grind the curry and laksa leaves in a grinder.
Sauté the leaves in the oil with the garlic, ginger and onions for about 3 to 4 minutes over a medium heat.
Add the remaining ingredients. Stir periodically and cook for about 10 minutes or until the vermicelli is soft.