Raw burst crunchy nutty pickled green Elderberry Capers cured and marinated in salty sweet white wine vinegar.
Tussle with your dreams. And, erupt in ecstasy.
This dish will admonish all beliefs that vegan food can't be super nourishing.
Make this:
When you have an abundance of green elderberries coming into season. It's time to get those clippers out and pruning for these lush post flower heads
When you're in the mood for an alternative caper that's nutty and spews with flavour
When you're wanting to salt-cure your own preserves for the winter season
Elderberry Capers was inspired when harvesting these green beauties at a friend's farm. There had been a cornucopia of elder trees all with lush foliage. Working quickly in foraging we plucked the stalks of the capers and cured them.
This dish is raw and vegan.
What equipment to use 
For this recipe, I suggest:
Stove
What to do next
Tag me on @ethiveganquantum on Instagram to show me what you've made and let me know you're happy for me to share.
My recipes are featured in vegan speciality publications: Nourished, Vegan Life, Plant Based and Vegan, Food and Living.
Order my first self-published book, "Essence: The Beginner's Guide to Veganism" part of the three-part Circle of Food series. My second book "Presence: The Ascending Vegan" – which explores how to maintain a vegan practice is out in 2027 – I have compiled all the chapters including recipes.
Going strong since 2013.
Love.
Edward x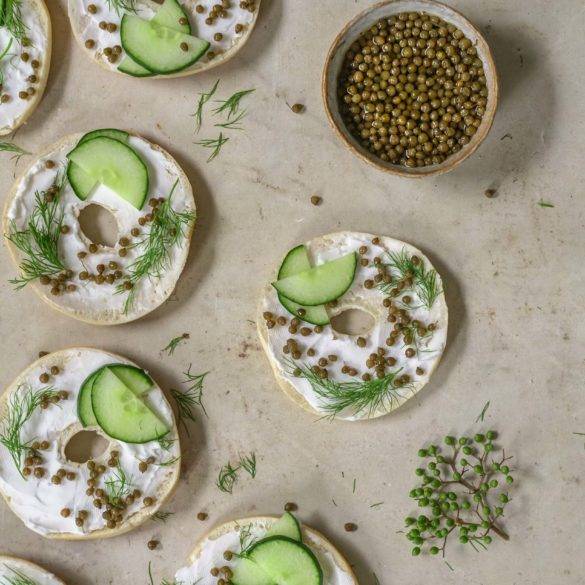 Ingredients
200g green elderberries

200ml water

50g salt

25g unrefined cane sugar

200ml white wine vinegar
Instructions
Remove stalks off the elderberry capers and place in a glass or ceramic bowl.
Pour in the water and salt. Mix well. Cover and leave to salt-cure for around five days.
Rinse the capers to remove any excess salt and transfer to sterilised jars.
Dissolve sugar in vinegar under a low heat. Leave to cool. Pour and submerge the capers. Seal the jars. Place in a cool dark place for about a month. I find the flavour develops and the capers swell over time.
Serve with salads or as a garnish.