Pickled Walnuts, infused with a medley of mustard seeds, cardamon, allspice and juniper berries, ginger, chilli and peppercorns.
Get a tasty morsel down your throat and quiver.
Have you ever made Pickled Walnuts?
This dish will oust your belief that vegan food can't taste this good.
Make this:
When its June/July and there are lush walnut trees to forage and your beady eye is keen to try something new
When you've just been to the farmer's market laden with fresh green walnuts, you're ready to experiment with
When you're out in the country and realise there are walnut trees abundant and think to yourself wouldn't it be lovely to just pick a few green walnuts
Pickled Walnuts was inspired when a friend generously made these for having picked these on her garden. Transfixed, I just wanted to create these myself.
Had another friend visiting and as we were ambling along and discovered a walnut tree in a public spot. Always, one for foraging, I was determined there was another walnut tree nearby and there was.  We handpicked green walnuts first checking no hard shell had formed.
Make sure you wear rubber gloves when you handle green walnuts as the iodine, they release will stain your hands.
Walnut trees are native to England, the Americas and Southern Europe.  Green walnuts are bitter and allowing it to macerate in vinegar laden with spices. As they marinade their astringent taste draws out citrus undertones.  Definitely, a recipe for the books.
Pickled Black Walnuts is vegan, paleo, raw, a condiment and British cuisine.
What equipment to use
For this recipe, I suggest:
Rubber gloves
What to do next
Tag me on @ethiveganquantum on Instagram to show me what you've made and let me know you're happy for me to share.
My recipes are featured in vegan speciality publications: Nourished, Vegan Life, Plant Based and Vegan, Food and Living.
Order my first self-published book, "Essence: The Beginner's Guide to Veganism" part of the three-part Circle of Food series. My second book "Presence: The Ascending Vegan" – which explores how to maintain a vegan practice is out in 2027 – I have compiled all the chapters including recipes.
Going strong since 2013.
Love.
Edward x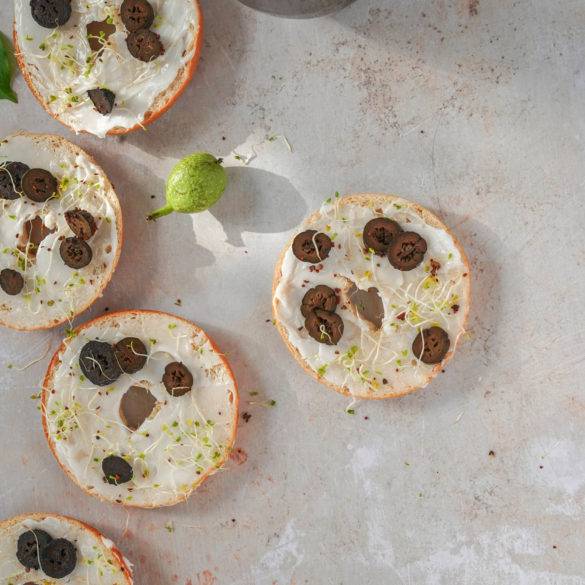 Ingredients
500g green walnuts, freshly picked

1 litre filtered water

100g rock/Himalayan salt

For pickle vinegar

1tsp mustard seeds

1tsp peppercorns, lightly crushed

1tsp cardamon pods, bruised

1tsp allspice berries

½ tsp cloves of India

5 juniper berries, lightly crushed

3 dried red chillies

1 inch root ginger

600ml wine vinegar

You will need for recipe

Rubber gloves
Instructions
Place 50g salt and 500ml water in a mixing bowl. Wearing rubber gloves, lightly prick the walnuts with a cocktail stick and add to the brine.
Cover and leave to stand for about half a week. Drain. Mix another brine using 50g salt and 500m water. Cover and set aside for a further half week./.
Drain, rinse and dry the walnuts. Spread on a baking tray and leave in a sunny place for a couple of days. The walnuts will blacken.
Sterilise jars and pack in the walnuts.
Make the pickle vinegar by heating the remaining ingredients over a medium heat. Bring to boil and pour over the walnuts. Once cold, seal the and store the walnuts in dry cool place for about 2 months before serving.
Serve as a condiment.