Crunchy chickpea fava bean balls laden with aromatic coriander and parsley, with earthy cumin and smoked paprika; Falafel.
Savour every morsel. And, succumb to pure ecstasy.
This dish will topple your belief that vegan food can't be this super yummy
Make this:
When you've got a swanky party to organise. Falafel is a firm favourite. And, will satiate your guests
When you've got the munchies. This dish will quench any hunger pangs. And, soak up any excess alcohol
When the kiddies have packed lunches to be made. These little beauties will fill their bellies and ensure they enjoy the rest of the day
Falafel was inspired from my youthful days clubbing to the early hours at a weekend. On the return trip home my mates and I would stop off at the local Middle-Eastern deli. Ravished and hungry we'd scoop up a falafel wrap laden with salad and munch our way home.
What I love about Falafel is that it makes a cheapish dish that goes a long way. Especially good if you have to budget and not be spendthrift.
Falafel is an amazing Middle Eastern dish that make a fantastic accompaniment for any party. Not only are these falafels flavoursome but just melt in the mouth.
This savoury dish is vegan and gluten-free, and Middle-Eastern cuisine.
What equipment to use
For this recipe, I suggest:
Pressure Cooker
Stove
Food processor
Oven
What to do next
Tag me on @ethiveganquantum on Instagram to show me what you've made and let me know you're happy for me to share.
My recipes are featured in vegan speciality publications: Nourished, Vegan Life, Plant Based and Vegan, Food and Living.
Order my first self-published book, "Essence: The Beginner's Guide to Veganism" part of the three-part Circle of Food series. My second book "Presence: The Ascending Vegan" – which explores how to maintain a vegan practice is out in 2027 – I have compiled all the chapters including recipes.
Going strong since 2013.
Love.
Edward x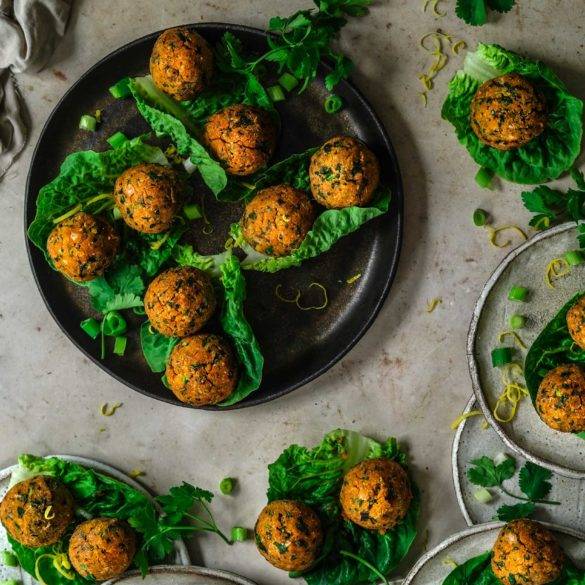 Ingredients
200g chickpeas

200g fava beans

2 shallots

2tbs olive oil

100g buckwheat, ground

75ml retained bean water

1tbs cumin

1tbs coriander powder

1tbs smoked paprika

3 cloves of garlic, minced

small bunch of parsley, chopped

small bunch of coriander leaves, chopped

1tsp salt

1/2tsp peppercorns, crushed

olive oil for frying
Instructions
Soak the chickpeas and fava beans in fresh water and set to one side overnight.
The following day, boil the chickpeas for 10 minutes so that chickpeas are half cooked and retain their crunchiness. Likewise bring the fava beans to the boil and cook for 5 minutes – the fava beans will cook much quicker.  Drain and set to one side. Retain the bean water.
Using a tea towel, pat dry the beans removing as much excess water as possible. Place the pulses in the food processor and pulse until the beans are chopped roughly but not to a ground pulp – it is important to retain the texture to give this dish a real bite. Place in place in a large mixing bowl. Set to one side.
Sauté the shallots in oil and place in the mixing bowl with the remaining ingredients. Pour in 75ml of bean water. Use a spatula to combine well and set to one side in the fridge for a couple of hours.
Preheat the oven to gas mark 180 degrees Celsius or if a convection oven to 160 degrees Celsius.
Shape into 1.5-inch walnut sized balls. There should be round 20 balls from the mixture. Place on parchment paper laid on a tray.
Heat some olive oil and add the falafel in bunches, gently toss in the oil. Only keep in the oil for a minute or so.
Place the falafels onto the ovenproof dish.
Once the falafels are all lightly cooked, drizzle with oil. Cover with aluminium foil and bake in the oven for about 20 minutes.
Serve immediately with salad, hummus or pita bread.