Fava Bean Hummus; creamy pea dip flavoured with citrus lemon, sweet tart paprika, nutty tahini and bitter garlic.
Delve into soft and yummy. And, lick your lips.
This dish will obliterate your belief that vegan food can't be simple to rustle up.
Make this:
When you're eardrums are humming as you dance to the latest tunes and a quick dip is the icing you need
When you've just had a good run round the block and famished before you jump into the shower before venturing out for the evening
When you've got a soiree and time is not on your side and you need a dip that'll have your friends scooping for more
I was inspired to make Fava Bean Hummus when I visited the local zero waste shop. I found a casket of fava beans. And, with this discovery, I had an overwhelming need to make a simple fava bean dish with some naan bread that I'd purchased.
Fava Bean are broad beans cultivated for millennia.  They are part of the pea family and are popular in the Middle East.
Fava Bean Hummus is a condiment and vegan, and Middle Eastern cuisine too.
What equipment to use
For this recipe, I suggest:
Pressure cooker
High speed blender
What to do next
Tag me on @ethiveganquantum on Instagram to show me what you've made and let me know you're happy for me to share.
My recipes are featured in vegan speciality publications: Nourished, Vegan Life, Plant Based and Vegan, Food and Living.
Order my first self-published book, "Essence: The Beginner's Guide to Veganism" part of the three-part Circle of Food series. My second book "Presence: The Ascending Vegan" – which explores how to maintain a vegan practice is out in 2027 – I have compiled all the chapters including recipes.
Going strong since 2013.
Love.
Edward x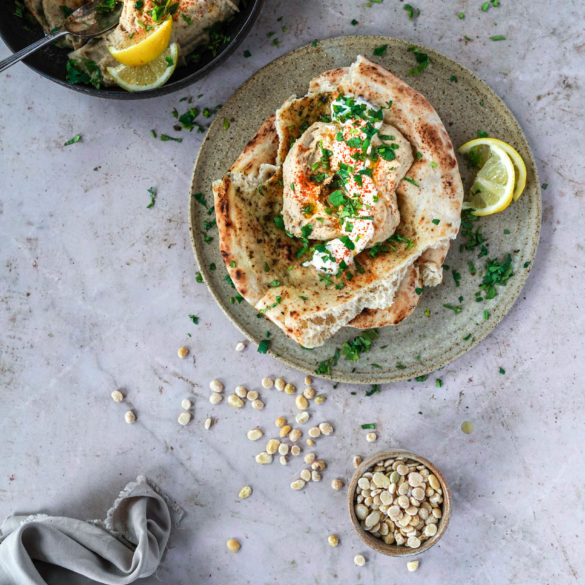 Ingredients
200g fava bean

50ml retained fava bean water

2tbs olive oil

2tbs tahini

¼ tsp sweet paprika

½ lemon, juice

1 clove of garlic

Pinch of salt and pepper

Garnishing

Few sprigs of coriander leaves

1tbs olive oil
Instructions
Soak the fava beans in filtered water a couple of hours. Drain and place in a pressure cook with fresh filtered water.  Pressure cook in 200ml water for 10 minutes.  Drain the fava beans but retain the water.
Place the tahini, oil, juice, garlic, paprika and salt and pepper in a blender. Blend well.
Add in the fava beans with 50ml of retained fava bean water and pulse roughly. It should form. A smooth paste – add more fava bean water as necessary to make it smooth and creamy. Transfer to a serving dish.
Garnish with coriander. Drizzle oil over
Serve with bread or whatever takes your fancy.