Garnish your decks. And, indulge in savoury somethings.
Crisp bite-sized Onion Bhaji infused with pomegranate seeds, mango, coriander, cumin, garlic, ginger and a touch of citrus lemon juice.
This dish will obliterate any belief that vegan food can't be this super yummy.
Make this:
When you've got a pre-drinks soiree with friends before you head over to the party in town
When you've a family of hungry fiends all vying for attention and a quiet moment while they yap up these treats is much needed
When you've hosting an Indian night with the lads and fancy showing off your culinary skills – in a subtle but powerful way
Onion Bhaji was inspired by father who is an avid cook and makes the best.  These Onion Bhaji's are reminiscent of my childhood returning from school to plates laden with these little savouries. Raita yoghurt, cucumber and a bit of lettuce just added a touch of finesse.
I had friends over for pre-drinks before we were headed over to the Pride celebrations in Trafalgar Square. One of my close friends was doing a twirl with his Ju Jitsu lot with a flamenco fan in tow. The twirl was really cool and impressive. And, the crowd was lapping up the performance as he passed through the packed streets of central London.
His boyfriend made it to mine for pre-drinks with my bestie before the display.  As we standing out, the boyfriend mentioned that I'd sent him a text beforehand saying I was making "Opinion Bhaji"! Obviously, in my haste I had mis-spelt "Opinion" or "Onion" but still we had a laugh.
This dish will forever be etched in my mind as "Opinion Bhaji". After all, they do have a taste of their very own. Thanks to dad for creating these in the first place.
Onion Bhaji is vegan, gluten-free and Indian cuisine.
Love.
Edward x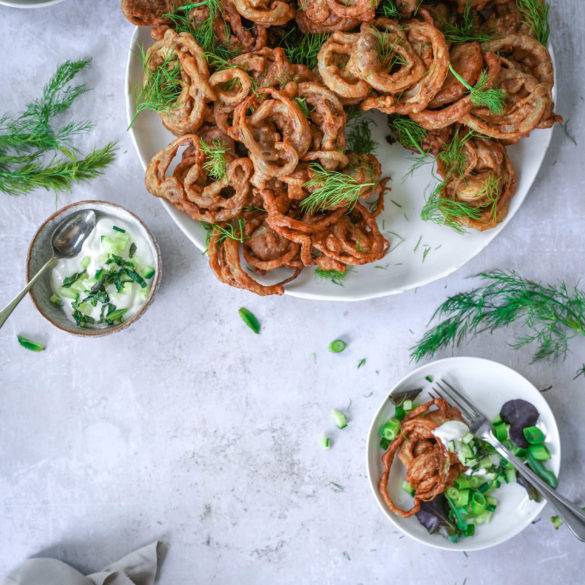 Ingredients
5 medium onions

200g garam/chick pea flour

100ml yoghurt

130ml filtered water

½ lemon, juice

1tsp dried pomegranate seeds

1tsp coriander seeds

1tsp cumin seeds

1tbs mango powder

1tsp garlic powder

½ tsp ginger powders

Pinch of salt

Pinch black pepper

½ tsp bicarbonate of soda

Sunflower oil for frying
Instructions
Sieve the garam flour into a large mixing bowl.
Grind the pomegranate, coriander and cumin seeds, salt and pepper and transfer to the mixing bowl. Add in the garlic and ginger powders, and bicarbonate of soda. Mix well.
Use a mandolin or slicer to thinly slice the onion and toss into the dry ingredients.
Fold in the yoghurt. Then water and lemon juice. Cover and set to one side for at least 30 minutes.
In a large wok or deep fat fryer bring the oil to heat.  Drop a spoonful of dough into the mixture.  The first one is just an attempt to see how hot the oil is.
Then drop spoonfuls of batter into the oil and batch fry the bhaji. Have kitchen paper covering a plate to catch any excess oil.
Serve warm with raita, ketchup or anything that takes your fancy. As an extra touch garnish with dill.
You can cover and leave the batter in the fridge for a couple of days and use as needed.