Velvety creamy nutty Fig and Butternut Mousse infused with a tinge of citrus, orange blossom water and tamari.
Take a bite and delve into silky smoothness. And, relax.
This dish will have you burst any belief that vegan food can't be simple to put together.
Make this:
When you've had a long day at the home and need to put your feet up on the sofa and relax with a little indulgent treat
When you've got a nifty dinner party for friends and a quick and dirty dessert is obligatory
When you fancy a little something special as you nudge up to your loved one for brekkie in bed
Fig and Butternut Mousse was inspired when having a mate over for bevvies and putting the World to rights.
Butternut squash is a winter squash that has a sweet nutty flavour to it.  It is native to America and Canada.
Figs and Butternut Mousse is vegan, paleo and raw.
What to do next
Tag me on @ethiveganquantum on Instagram to show me what you've made and let me know you're happy for me to share.
My recipes are featured in vegan speciality publications: Nourished, Vegan Life, Plant Based and Vegan, Food and Living.
Order my first self-published book, "Essence: The Beginner's Guide to Veganism" part of the three-part Circle of Food series. My second book "Presence: The Ascending Vegan" – which explores how to maintain a vegan practice is out in 2027 – I have compiled all the chapters including recipes.
Going strong since 2013.
Love.
Edward x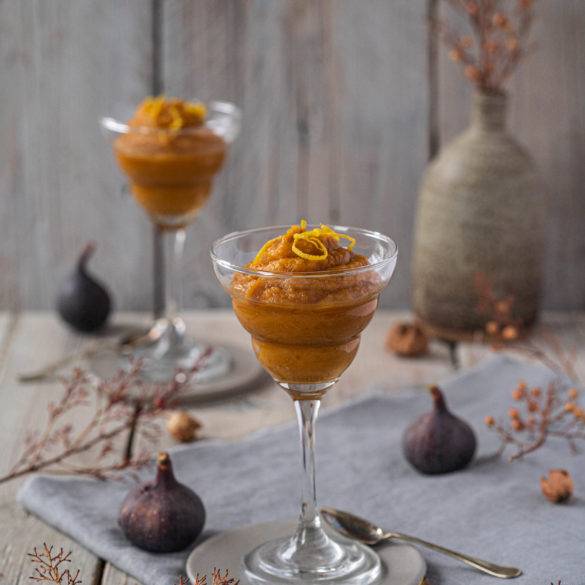 Ingredients
100g figs, dried

200ml filtered water

300g butternut squash

25ml maple syrup

1 orange

1tbs lemon, juice

½ tsp orange blossom water

1tsp tamari

Pinch of salt
Instructions
Soak the figs in filtered water and set to one side overnight.
Remove the stalk of the figs and place with the water, maple syrup squash, orange, orange blossom water, tamari and salt and whizz in a high-speed blender until light and fluffy. Transfer to a serving dish.
Serve chilled, garnishing with shavings of lemon peel.