Fig and Butternut Mousse is a wonderful raw mousse that is easy to put together. I make this mousse whenever I need to rustle up as a quick dessert for a raw food menu. Add a couple of tablespoons of maple syrup if this dish is not sweet enough.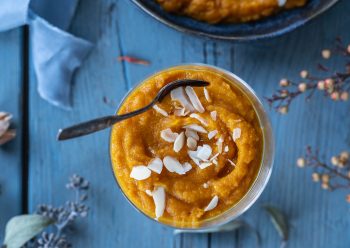 Ingredients
100g figs, dried
200ml filtered water
300g butternut squash
1tsp orange blossom water
1tsp tamari
Pinch of salt
Garnishings
Blanched almond flakes
Instructions
Soak the figs in filtered water and set to one side overnight.
Remove the stalk of the figs and place with the water, squash, orange blossom water, tamari and salt and whizz in a high-speed blender until light and fluffy. Transfer to a serving dish.
Serve chilled, garnishing with blanched almond flakes.
Notes
By Edward Daniel, Vegan Chef and Former Chair of The Vegan Society. Contributor to Vegan Life Magazine, Plant Based Magazine, Vegan Food and Living Magazine and OK! Magazine. Speaker and cooking demonstrator at Vegan Life Life Festival London, Mind Body and Spirit Festival London, Veganes Sommerfest Berlin, and Bali Vegan Festival. Author of "Essence: The Beginner's Guide to Veganism".