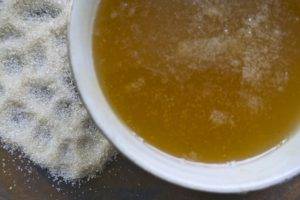 Toffee Sauce
Toffee Sauce is of those easy recipes that add flavour to cakes and puddings. Each chef has a variant of how to make this sauce but I prefer to have my sugar crystalise before adding the other ingredients.
Ingredients
100g unrefined cane sugar
50g coconut oil
100ml vegan milk
Instructions
Place the sugar in a non-stick pan over a medium heat. Stir continuously until the sugar starts to clump after a couple of minutes.
Add the oil and vegan milk and be careful with any spitting. Stir continuously. Bring to the boil. Boil for a couple more minutes.
Remove the pan from the heat.
Serve.
_____________________________________________________
EthiVegan by Edward Daniel
Thank you for taking the time to view my recipes, interviews and events pages.  I hope I inspire you to make these recipes and also inspire you to become very best versions of yourself.
You can follow me on Instagram here (@ethivegan) where I have quick one minute update videos and for interviews and cooking demonstrations you can subscribe to my Youtube channel here.  You can watch live cooking demonstrations by subscribing to my Facebook profile here (@ethivegan).
For more information about me – click here
See you soon.
Love.
Edward x
Edward Daniel | Vegan Chef