Nutty Vegan Crab Cakes with cayenne peppers and sweet paprika, and oozing umami flavours that merge sour, salty, and bitter too flawlessness.
Indulge in a tasty morsel for a sumptuous dining experience. And, lounge.
This dish will burst your belief that vegan food can't be super yummy.
Make these:
When you're scrambling for a healthy main to complement greens and salads
When you're al fresco dining and the sun's beating down and you want something warming yet pillowy
When you've got friends over for a dinner party and you're wanting something opulent yet understated
Vegan Crab Cakes was inspired by nostalgic school dinner memories and wanting to emulate a taste cruel-free sumptuous dish.
I use an air fryer to give these cakes a slightly drier yet crunch texture in the centre– for me, the essence of a crab cake. Frying or baking is possible, if you don't have an air fryer, but you'll get a softer centre.
Vegan Crab Cakes is vegan seafood, a vegan air fryer recipe, paleo and gluten-free.
You can find
My vegan tartar sauce recipe here
Where I get my ingredients from
Maitake mushrooms (or also known as hen of the woods) have a rich, savoury yet zesty flavour to them. Use oyster mushrooms, if unavailable. I normally order my Maitake mushrooms from Livesey Brothers here in the UK. Great service and the Maitake is use for this recipe.
What equipment to use
For this dish, I suggest:
High-speed blender
Stove
Air Fryer
What to do next
Tag me on @ethiveganquantum on Instagram to show me what you've made and let me know you're happy for me to share
My recipes are featured in vegan speciality publications: Nourished, Vegan Life, Plant Based and Vegan, Food and Living.
Order my first self-published book, "Essence: The Beginner's Guide to Veganism" part of the three-part Circle of Food series. My second book "Presence: The Ascending Vegan" – which explores how to maintain a vegan practice is out in 2027 – I have compiled all the chapters including recipes.
Going strong since 2013
Love
Edward x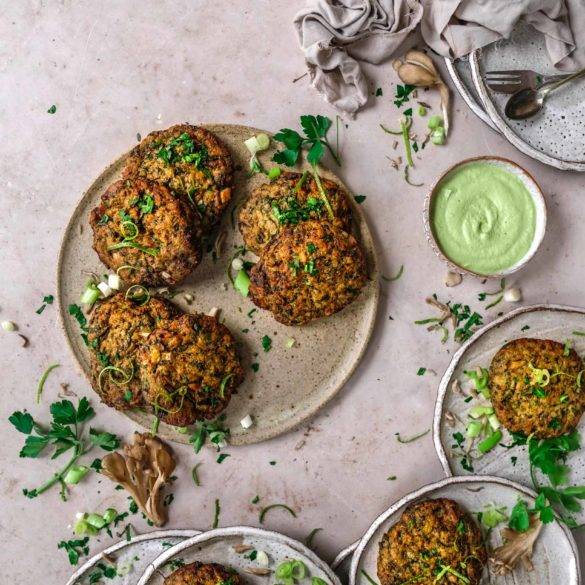 Ingredients
600g potatoes, cooked mashed

250g maitake mushrooms, chopped (or use oyster mushrooms, if unavailable)

2 spring onions, chopped finely

1tbs capers, chopped

½ lime, juice

½tsp cayenne pepper

½tsp sweet paprika

½tsp white pepper

Few sprigs of Parsley, chopped

100g buckwheat groats

25g flaxseeds

1tbs bladder wrack, ground (or nori/laver)
Instructions
Boil, cook and mash the potatoes. Set to one side.
Chop the maitake mushrooms, spring onions and capers and place in a large mixing bowl. Add in the lime juice, cayenne, sweet paprika and white pepper.  Stir and add in the chopped parsley. Then add in the mashed potatoes.
Grind the buckwheat groats and flaxseeds and mix well into the mixture. Add in the bladder wrack. Set to one side for about 20 minutes.
Have a bowl to one side with lukewarm water to dip your hands into now and again.
Line a tray with parchment paper.
Take a small handful of the mixture make into a round circle to form a cake. Place on the parchment paper. Keep repeating till you use up the mixture.
Warm some oil in a frying pan, sauté the cakes for about a minute and return to the tray. Set aside until ready to eat.
Cook the crab cakes in an air fryer at 185 degrees Celsius for 10 minutes, in batches.
Serve freshly cooked with vegan tartar sauce.