Tempt your fancy. And, hoot your balls.
Blanched Spinach and crushed walnuts wrapped with blue fenugreek, sweet paprika, lemon and vinegar; Georgian Spinach Walnut Balls (Pkhali).
This dish will rupture your belief that vegan food can't be nourishing and healthy.
Make this:
When you fancy a little detox appetiser spread with crackers that'll have you sizzling your night away
When you've got a finger food party and a lush Hors d'oeuvre that'll wow your guests and into the mood for dancing
When you've got a penchant for indulgence as you pop your cork and lounge on your terrace
Georgian Spinach Walnut Balls (Pkhali) was inspired by Mac, a chef I met at Calme Garden, Lagonissi, South of Athens, Greece. He rustled up these beauties and inspired me to hunt out blue fenugreek.
Blue Fenugreek is a requisite Georgian spice. It is less bitter and harsh compared to the traditional Indian fenugreek.
I ordered my blue fenugreek from Suneli found here. It arrived in no time along with other Georgian spices including dried marigold flours and svaneti salt.
Georgian Spinach Walnut Balls (Pkhali) is a vegan condiment, raw and paleo.
Love.
Edward x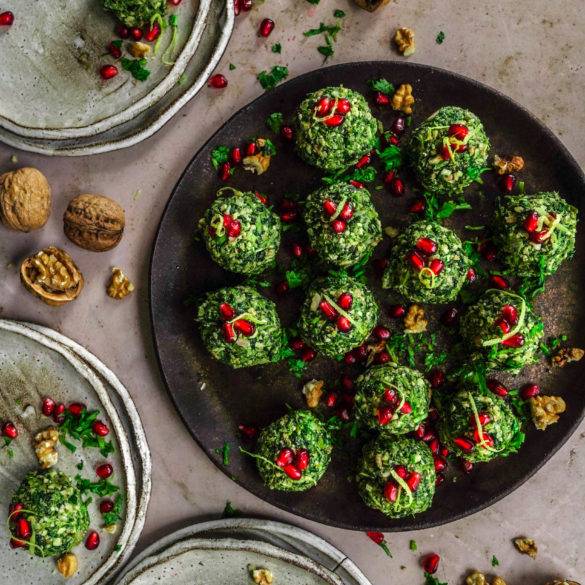 Ingredients
500g spinach

50g coriander leaves

200g walnuts

1 shallot

2 cloves of garlic, minced

1tsp blue fenugreek

1/2 tsp sweet paprika

2tbs apple cider vinegar

2tbs lemon juice

2tbs olive oil

Season to taste

1 pomegranate, seeds
Instructions
Blanche spinach in boiling water for a minute to wilt. And, work quickly to remove and place in iced cold water to ensure the spinach's colour is retained.
Place the spinach in a chopper and pulse with the coriander leaves, walnuts and shallots. Transfer to a large mixing bowl. Add in the minced garlic, blue fenugreek, sweet paprika, lemon juice, oil.
Cover and leave to marinade for an hour in the fridge.
Remove and season to taste. Use the palm of role the spinach and walnuts mixture into balls.
Garnish with pomegranate seeds.