Crispy kale, tart pomegranates and mung beans dressed in olive oil, vinegar and lemon juice; Kale Pomegranate Mung Bean Salad.
Tremble in anticipation as your loins quiver. And, spoil yourself.
This dish will overthrow any belief that vegan food can't be super nourishing.
Make this:
When you fancy a light hearty salad that'll enliven you
When you're rushed for time and quick nurturing salad that'll enhance your main dish
When you've got a finger food buffet and need an easy salad that'll have your guests salivating
Kale Pomegranate Mung Bean Salad was inspired by Jana, a fellow volunteer at Calme Garden, Lagonissi who used the garden's organically grown ingredients to create this wonderful salad full of abundance. For more information and to participate in a permacultural and cultural experience, much as I did last year, check out Calme Garden here. You can also find its music to listen too here.  For me it was a great experience and one which I enjoyed picking almonds, pomegranates and growing our own kale.
This Salad is vegan and raw.
What equipment to use
For this recipe, I suggest:
There isn't any for this one.
What to do next
Tag me on @ethiveganquantum on Instagram to show me what you've made and let me know you're happy for me to share.
My recipes are featured in vegan speciality publications: Nourished, Vegan Life, Plant Based and Vegan, Food and Living.
Order my first self-published book, "Essence: The Beginner's Guide to Veganism" part of the three-part Circle of Food series. My second book "Presence: The Ascending Vegan" – which explores how to maintain a vegan practice is out in 2027 – I have compiled all the chapters including recipes.
Going strong since 2013.
Love.
Edward x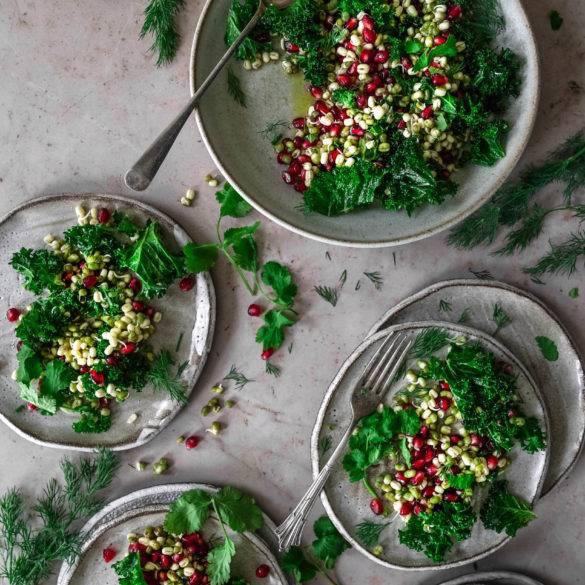 Ingredients
100g mung beans

1 pomegranate

5 strips of kale

4tbs olive oil

2tbs cider vinegar

½ lemon juice

Few sprigs of coriander

Few sprigs of dill

Season to taste
Instructions
Leave the mung beans to soak in filtered water for at least 24 hours. Cover with a cloth. Drain and add fresh water and leave to soak for a further 24 hours. Transfer the beans to a colander over a bowl and re-cover with cloth for 24 hours. Soak again in water for a few hours before air drying.  The mung beans should sprout. Leave to sprout for a further day.
Remove the kale leaves from the stem and place into a large mixing bowl with the pomegranate seeds. Toss in the sprouted mung beans, and chopped coriander and dills.
Pour in the oil, vinegar and lemon juice. Season to taste.
Serve at room temperature.