Get dribbling for some action… And, slaver.
Creamy citrus Vegan Hollandaise Sauce with an earthy tahini base and bitter mustard, turmeric, black salt and cayenne pepper.
This dish will burst your belief that vegan food can't be utterly yummy.
Make this:
When you want to drizzle some hollandaise sauce onto your asparagus, or roasted cauliflower or broccoli
When you fancy a dollop to go on your homemade tofu/mushroom benedict
When you have a barbeque going and your seitan steak would have a nice accompaniment
Vegan Hollandaise Sause was inspired when I was experimenting making a mushroom benedict and needed a tasty hollandaise sauce complement.
Hollandaise sauce is made with egg yolk and melted butter but this vegan version uses tahini as its main component.  This is probably one of my easiest recipes and looks and taste good – so try it out.
Vegan Hollandaise Sauce is a vegan condiment and gluten-free.
Love.
Edward x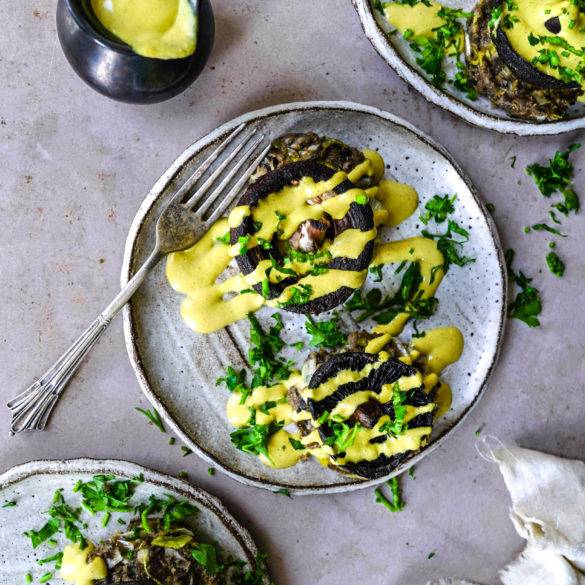 Ingredients
100g tahini

100ml filtered water

25g nutritional yeast

1tbs white wine vinegar

½ lemon juice and zest

1tsb garlic powder

1tsb onion powder

1/2tsp mustard ground

½ tsp turmeric ground

½ tsp black salt (kali namak)

¼ tsp cayenne pepper
Instructions
Place all the ingredients into a high-speed processor or blend and whizz till it forms a nice creamy consistency.
Transfer to a sterilised jar. Store in the refrigerator. Use as needed.