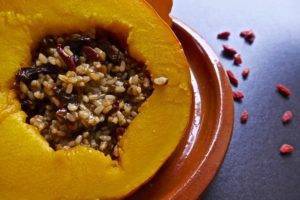 Goji Berry Sundried Tomato Stuffed Squash
Goji Berry Sundried Tomato Stuffed Squash is one of those hearty dishes that is full of flavours and textures. What I adore about this dish is sweet taste of the goji berries and squash that melds well with the salty sundried tomatoes. Perfect for a Winter's day.
Ingredients
1kg sugar pumpkin
2tbs coconut oil
50g short grain brown rice
15g goji berries
50g sundried tomatoes, rehydrated and chopped
juice of ½ lemon
Instructions
Preheat oven to 170 degrees Celsius.
Place the pumpkin in a baking trying. Baste the pumpkin with the oil. Roast in the oven for about 30 minutes. Remove and set aside. Switch off the oven.
In the meantime, cover the rice with filtered water. Bring to the boil and simmer for about 30 minutes. Top up with boiling water as necessary. Strain any excess water after cooking.
In a large bowl mix together the rice, goji berries, tomatoes and lemon. Leave to one side.
Slice off the top of the pumpkin and remove the seeds inside. (You can retain the seeds for toasting).
Place the rice mixture in the pumpkin cavity. Place the top of the pm. Leave in the oven to keep warm until ready to serve.
_____________________________________________________
EthiVegan by Edward Daniel
Thank you for taking the time to view my recipes, interviews and events pages.  I hope I inspire you to make these recipes and also inspire you to become very best versions of yourself.
You can follow me on Instagram here (@ethivegan) where I have quick one minute update videos and for interviews and cooking demonstrations you can subscribe to my Youtube channel here.  You can watch live cooking demonstrations by subscribing to my Facebook profile here (@ethivegan).
For more information about me – click here
See you soon.
Love.
Edward x
Edward Daniel | Vegan Chef