Tapenade; citrusy olives, peppers, tangy capers, cider vinegar infused in olive oil, minty thyme and cayenne pepper.
Smother yourself in something moist and tangy.  And, breathe.
Make this:
When you've got a soiree event and a quick dish that looks amazing and tastes scrumptious will have your party go off with a bang
When you want an appetising luncheon, that will have you revving to go as you slide into the afternoon
When you've got a dinner party and are pressed for a time and a starter that'll have your guests polishing off this dish in no time
Tapenade was inspired by dinner parties a Nottingham friend would make when I'd join him at his events.
Tapenade is an olive pate harking from the Provence region of southern France.
What I love is about this dish is the cayenne pepper and vinegar really enhance the distinctive taste of the olives and capers and the subtle flavours of the peppers.
Tapenade is vegan, a condiment, paleo and French cuisine.
What to do next
Tag me on @ethiveganquantum on Instagram to show me what you've made and let me know you're happy for me to share.
My recipes are featured in vegan speciality publications: Nourished, Vegan Life, Plant Based and Vegan, Food and Living.
Order my first self-published book, "Essence: The Beginner's Guide to Veganism" part of the three-part Circle of Food series. My second book "Presence: The Ascending Vegan" – which explores how to maintain a vegan practice is out in 2027 – I have compiled all the chapters including recipes.
Going strong since 2013.
Love.
Edward x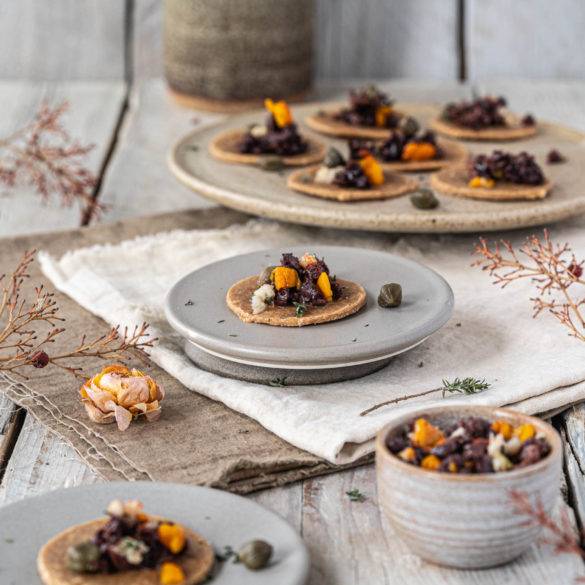 Ingredients
2 red peppers

2tbs olive oil

180g green olives, pitted and well drained

50g capers, well drained

1tbs vinegar

few sprigs of thyme

pinch of cayenne pepper
Instructions
Preheat oven to 170 degrees Celsius.
In a small roasting tray place the peppers and baste with the oil. Roast for about 30 minutes until the skin of the peppers starts to blacken. Remove from the oven and set aside to cool.
Remove and discard the skin of the peppers. Place the peppers and remaining ingredients (make sure that the olives and capers are well drained beforehand) into a food processor. Whizz until the ingredients are roughly chopped.