Cassava and Orange Peel Curry Cassava and Orange Peel Curry is a rich tart recipe using orange peel, which is ordinarily discarded.  What I love about this dish is its vibrant colour.
What to do next
Tag me on @ethiveganquantum on Instagram to show me what you've made and let me know you're happy for me to share.
My recipes are featured in vegan speciality publications: Nourished, Vegan Life, Plant Based and Vegan, Food and Living.
Order my first self-published book, "Essence: The Beginner's Guide to Veganism" part of the three-part Circle of Food series. My second book "Presence: The Ascending Vegan" – which explores how to maintain a vegan practice is out in 2027 – I have compiled all the chapters including recipes.
Going strong since 2013.
Love.
Edward x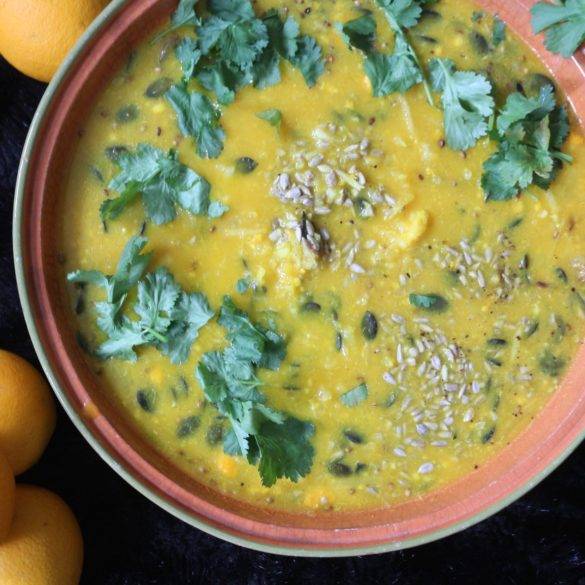 Ingredients
50g sunflower seeds
100g pumpkin seeds
500g cassava, shredded
1kg filtered water
1 inch turmeric, grated (or alternatively, 1tbs turmeric powder)
3tbs olive oil
2 shallots
1tbs coriander seeds
2 oranges
1tsp harissa paste (optional)
bunch of coriander leaves
Instructions
Soak the pumpkin seeds and sunflower seeds in filtered water.
Cut the oranges in two and squeeze out the juice. Place the remaining peel in a chopper and chop finely. Set the juice to one side.
Place the orange peel with the cassava in filtered water over a medium heat. Bring to boil and simmer for about 25 minutes until the cassava forms into a glutinous source. Set to one side.
In a frying pan place the turmeric with the olive oil to form a sauce. Cook over a low heat for three or four minutes. Add the shallots with the coriander seed and sauté until the coriander seeds start to golden. Add to the orange peel and cassava mixture.
Drain the seeds and add to the mixture too. Add the orange juice too to the mixture. Roughly mix.
Season to taste. Add the harissa at this stage, if you feel so inclined...
Garnish with coriander leaves and serve.